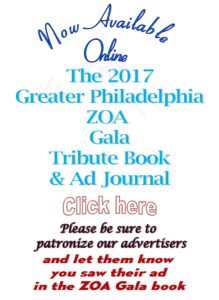 Our Greater Philadelphia ZOA Gala 2017 Tribute Book and Ad Journal is now available for your enjoyment.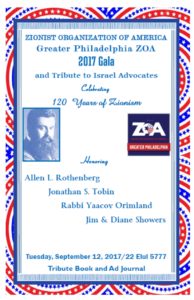 It features extensive biographies of our honorees, information about the awards we give and insights into ZOA; letters from elected officials from the Tri-State area expressing support for ZOA, the work we do and recognizing our honorees; plus congratulatory notices and ads from individuals, families and businesses.
We especially ask that you make a note of the businesses and service-providers that support Greater Philadelphia ZOA and we encourage you to please patronize these businesses and professionals and that you mention that you saw their ad in our Gala Book. This helps us, and helps those who help us want to continue to help us.
Click on the cover image to link to the book.
Thank you.
Please share this item with others so that they, too can enjoy the book and patronize those who are pro-Israel and pro-ZOA!
Older
Newer