For Israel's sake, please come to Washington with ZOA to participate in our annual Capitol Hill Advocacy Mission.
The traditional Luncheon and Lobbying Day will take place on Thursday, June 20. This year there will be a special Kickoff Dinner the night before, on Wednesday, June 19, which you will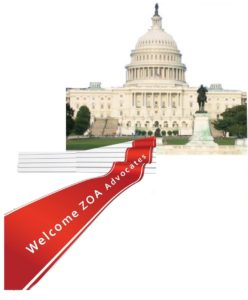 have an option to attend. There will be a special guest speaker at the dinner – we will announce who that will be shortly.
Registration is now open for both of these events. See the link below.
Both the dinner and luncheon will be glatt-kosher.
To register for the Mission, go to the link below. Please see the special instructions later in this email for those of you who want to take the bus round-trip from the Philadelphia area on June 20, or return with us that afternoon if you are going for both days.
https://zoa.org/mission-events/zoa-mission-to-washington/
Why is it important for you to participate in ZOA's Capitol Hill Advocacy Mission this year?
These times remain perilous and much of the world remains hostile to the Jewish State of Israel.
There are now a number of overt public anti-Semitic Israel bashers in Congress. They have repeatedly made hateful statements against the Jewish State and the Jewish people – with no consequences.
Mahmoud Abbas' Palestinian Authority (PA) has codified into Law its policy to pay Arabs to murder Jews and the more Jews an Arab has killed, the higher the pension. These killers are also guaranteed a top government job once they get out of prison. The PA spends $400 million a year on these rewards.
The Palestinian Authority never ceases to promote hatred and violence against Jews in their schools, media, speeches, and sermons. They continue to officially praise Jew killers as martyrs.
Iran continues to threaten Israel with its buildup of missiles and its nuclear program.
You can help educate our lawmakers in Washington, D.C. about the perils that Israel faces – which also affect our own country's security. You can have a voice in shaping U.S. policies that are beneficial to Israel and the U.S.
In addition to the optional kickoff dinner, the Mission includes:
Attend a briefing from the ZOA Government Relations department on the issues affecting Israel and the U.S.-Israel relationship;
Participate in a special kosher luncheon on Capitol Hill with members of Congress, in a magnificent Senate room where dozens of members of the House and Senate will address our delegation;
Meet our professional lobbyists, and other ZOA activists from around the country;
Meet with your representatives in the House and Senate and/or their top aides to talk about issues affecting Israel and the US.-Israel relationship.
You must pay for the Mission via National ZOA. You can pay by check or credit card. To pay by check, call 212-481-1500. You can also pay with a credit card via phone. To pay online, go to https://zoa.org/mission-events/zoa-mission-to-washington/
See the instructions in the images below if you choose to pay online.
For those who want to go on the Mission for June 20 only: Our Greater Philadelphia bus will leave from Northeast Philadelphia and Merion Station. If there is enough demand, we will try to include a pick-up/drop off from Center City and perhaps Bucks County. You must call our office to reserve your bus spot and pay in advance. To pay for the bus, send a check for $55 per person to: ZOA, P.O. Box 56, Bala Cynwyd, PA 19004.
To pay by credit card, you can do so online at our Web site. The cost will be $58.30 per person, which includes processing fees. Go to: https://zoa.org/donate/philly/
Please see all Mission registration and bus instructions in the images below.
If you have any questions or for more information, please call us at 610-660-9466.
Click on the images below to enlarge: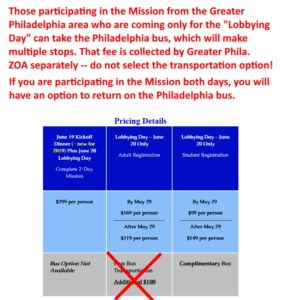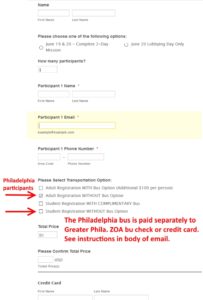 To pay for the Philadelphia bus by credit card:
Go to this link: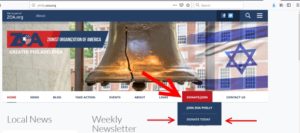 Older
Newer