Greater Philadelphia ZOA Announces 2023 Gala Date, Honorees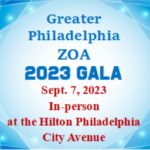 We are very excited to once again convene lovers of Israel, Zionists and Jewish advocates and activists and our non-Jewish friends and allies from for a special in-person evening of tribute, inspiration and camaraderie and to celebrate America and Israel, and Zionism and Patriotism! on Thursday, Sept. 7.

We will honor Bart Blatstein with our Pillar of the Community Award;
Justice Sandra Schultz Newman with our Defender of Israel Award;
Stan Casacio and Diane Cardano Casacio with our Friends of Zion Award; and
Michael Goldfarb with our Ben Hecht Award for Outstanding Journalism.
We invite you to please support and participate in our Gala Ad Journal and Tribute Book. Please  place your business advertisements and congratulatory notices early. We have a hard deadline of August 14 – but the sooner you get them in, the easier it is for us.
You can learn more about our Gala Ad Journal and Tribute Book at the two links below. There is also information there regarding purchasing reserved tables or individual Gala tickets. You can purchase by check or credit card/debit card.
https://philly.zoa.org/wp-content/uploads/sites/6/2023/06/gala-2023-ad-blank-for-email.pdf
https://philly.zoa.org/wp-content/uploads/sites/6/2023/06/gala-2023-ad-form-letter-rev-4.pdf
If you prefer to purchase ads, notices or tickets electronically, you may do so at our Greater Philadelphia ZOA 2023 Gala page at Eventbrite. Just click on the Eventbrite logo or link below.
https://www.eventbrite.com/e/greater-philadelphia-zoa-2023-gala-tickets-660505879867
Our Gala is our biggest event of the year and also our most important fundraising opportunity of the year.
Please help us be more successful than ever so that we can be more successful than ever in the promotion of and defense of Zionism, Israel and the Jewish People, and to prevent and combat anti-Jewish activity. The need is great for a robust Greater Philadelphia ZOA.
If you have any questions or would like more information about our Gala Ad Journal/Tribute Book or the Gala itself, please call us at 610-660-9466.
We are grateful to be able to recognize all that each of our honorees does on behalf of the Jewish People, Israel and Zionism, and we look forward to presenting our award to each of them in-person at our Gala.
This will be our first in-person Gala since 2019 – due to circumstances beyond our control. We so very much look forward to seeing our Greater Philadelphia ZOA Gala "Regulars" as well as new attendees who will become Gala "Regulars."
Our Emcee for our 2023 Gala will be communal leader, businessman and patriarch of a great family, Gary Erlbaum, who will lend us his panache, wit and talent for the evening.
Our Gala Co-Chairs are Lynne Kessler Lechter and Bruce Holberg, who are lending their talent, time and energy to help make our Gala a great success.
If you would like to participate on our Gala Committee to help make our biggest event of the year even better, please call Executive Director Steve Feldman at 610-660-9466.