Announcing Our 2018 Gala Honorees — and Your Role in This Celebration!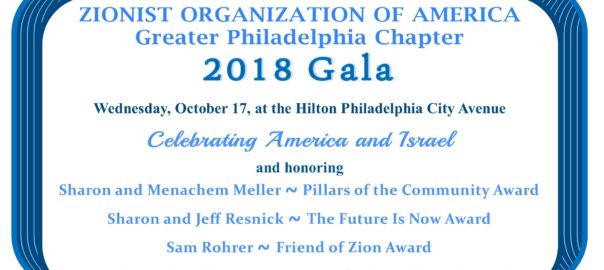 As most of you know, each year Greater Philadelphia ZOA has an evening when we celebrate America and Israel, Patriotism and Zionism; enjoy the camaraderie and fellowship of those who also love Israel; and most importantly, recognize those from our region whose devotion to the Land and People of Israel rises to the upper echelons of what it means to be a Zionist. This year, that evening is October 17, as we hold our annual Gala.
We are pleased to announce (in alphabetical order) our Greater Philadelphia ZOA 2018 Gala honorees in the graphic below (click to enlarge):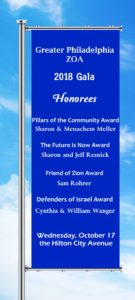 The Mellers and Wangers are active, ardent Zionists and supporters of ZOA; the Resnicks founded a group to educate young professionals about Israel; Sam Rohrer is a strong Christian Zionist both from the pulpit and on radio and television.
In upcoming emails we will tell you more about each of these honorees and give you details of what they do to help Israel, but for now know that what each has done and continues to do — whether in their professions, or among their peers and circles of friends, or in their congregation, or in the world of politics – is both inspiring and vitally important.
They are each worthy of your warm "Mazel Tov" and a from-the-heart "Thank you!"
We are looking forward to handing each of these honorees their respective awards – including our new Defender of Israel Award, and for only the second time, our special The Future is Now Award.
We hope that each of you will be a part of this celebration in person at our Gala, or in the pages of our Gala Tribute Book and Ad Journal.
Our streamlined Gala will take place at the Hilton Philadelphia City Avenue. The festivities will include a 90-minute glatt-kosher reception and an outstanding dessert reception following the award ceremony, as well as remarks from our honorees that will stir your soul and inspire you to even greater activism – you will want to be there to enjoy and take it all in.
Meanwhile, our Gala Tribute Book and Ad Journal is a perfect vehicle to publicly thank and congratulate our honorees, proclaim your personal pro-Israel message or salute ZOA and our leadership.
To reserve space in our Tribute Book and Ad Journal, see the form at the link below. You can also help ZOA – as well as merchants and service providers that you patronize – by encouraging them to place an ad in the book. It is a sure-fire way for them to reach potential new customers and clients.
Be a Part of Greater Philadelphia ZOA's
Biggest Event of the Year!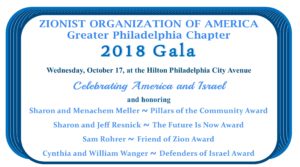 Our biggest event of the year will take place before you know it – so now is the time to put together and place your notice congratulating individual honorees or all of our honorees in the pages of our 2018 Gala Tribute Book and Ad Journal.
Each of our honorees works hard throughout the year on behalf of Israel and her People, and to strengthen the bond between America and Israel. October 17 is their night to be in the spotlight – to be thanked and celebrated.
We are thrilled to be able to recognize each of them – and we hope that each of you will want to recognize them for their accomplishments, and congratulate them for being honored.
Everyone who attends our Gala will receive a copy of the book. An electronic version will be available on our Website and our social media sites, plus the link will be emailed to our entire list. This book serves as a keepsake for each of our honorees – a memento of a wonderful evening – and people throughout our region and way beyond will have an opportunity to see your show of support.
There are a variety of options of sizes for congratulatory notices — and some include tickets to the Gala.
The Gala Tribute Book doubles as an Ad Journal. If you are a business owner or service provider, the Ad Journal is an ideal place to reach potential new customers and clients who will appreciate that you support ZOA.
You can reserve your notice or ad space now. You can also purchase tickets to the Gala now – see the links and address below. (click to enlarge)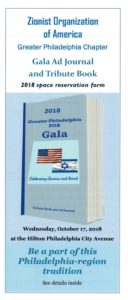 To pay by check, please make payable to "ZOA' and send to: ZOA, P.O. Box 56, Bala Cynwyd, PA 19004.
For more information about the Gala, our Tribute Book/Ad Journal, to volunteer or for anything else, please call our Office at 610-660-9466.