The Newsletter: February 15, 2019 Edition
Shalom ZOA Members, Friends and Supporters of Israel,
During the past week, Greater Philadelphia ZOA has gotten many calls from people who are concerned about the growing anti-Jewish and anti-Israel climate and actions. We have been asked mostly about Temple University Professor Marc Lamont Hill and Congresswoman Ilhan Omar. ZOA has issued extensive reports on both of these individuals and we will continue to aggressively expose and combat their efforts to hurt the Jewish community and the Jewish State, and the same goes for others who act similarly. This is what ZOA does.
Many of you have asked us what you can do. We thank you for your interest in taking on advocacy. On our Website www.philly.zoa.org are a number of advocacy resources and tips – but often each situation needs to be dealt with in a specific way. One of the features on our Web site is "Effective Strategic Advocacy." If offers general guidelines about advocacy that can make a difference. Please take advantage of what we have prepared. Please share this information with your friends, email contacts and on social media – and please let them know that this comes from ZOA. Essentially local issues need a local response while national issues require both a local and a national response.
You can help ZOA educate many people at once by hosting an event with ZOA speakers. It can be a large event in a synagogue or a community room, or it can be a small, informal event in a home or apartment. We will help people understand the issues, the particulars of individual situations, how best to respond – and how to be pro-active!
Please see the graphics below to help you to navigate our Web site for this information.
We look forward to hearing from you at 610-660-9466 or office@zoaphilly.org.
Click on images to enlarge
Advocacy Resources Updated
We have updated several of the advocacy resources on our Web site and also added new materials. There updated "Contacting Lawmakers", "Contacting Leaders" and "Contacting the Media" lists to reflect changes in the House and Senate, the administration and media outlets. Please make these resources a regular part of your pro-Israel advocacy and make your friends and social-media contacts aware of them as well. Please also see and use our many other advocacy resources. All are available at: http://philly.zoa.org/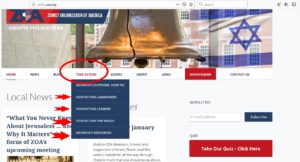 Be a Part of the ZOA Family!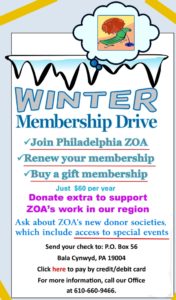 Have You "Liked" Us on Facebook Yet?

https://www.facebook.com/greaterphiladelphiazoa/
Please visit and "like" Greater Philadelphia ZOA on Facebook – and encourage your friends to do likewise!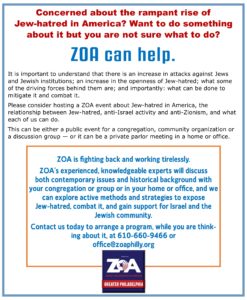 Are You A Member of One of ZOA's New Donor Societies?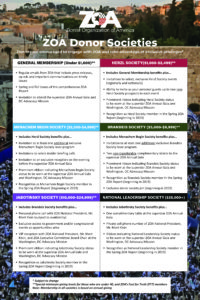 For details, or to become a Donor Society member, please call Greater Philadelphia ZOA Executive Director Steve Feldman at 610-660-9466.
There IS Only One ZOA – Help Us Do Even More!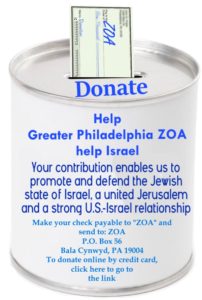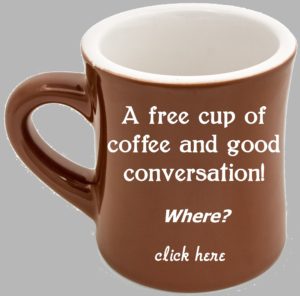 Does anti-Israel mean anti-Jew? | Stu Bykofsky
Minn. congresswoman's controversial criticism of the Jewish state makes the question timely.
Updated: February 12, 2019 – 5:05 PM
Can you be anti-Israel without being anti-Semitic, or are the two so tightly entwined as to be inseparable?
The question arises after Minnesota Congresswoman Ilhan Omar said support for Israel in Congress is bought and paid for. It was not Omar's first anti-Israel comment, and she did apologize after being tarred as an anti-Semite on social media. But is being anti-Israel actually synonymous with being anti-Semitic?
"They are the same," says Steve Feldman, executive director of the Zionist Organization of America's Philadelphia district. A ferocious defender of Israel, Feldman says of Omar: "I believe she is anti-Jewish."
I differ with Feldman, because I can't read Omar's mind. I find charges of anti-Semitism — and racism — to be so serious that they require indisputable proof. Omar knows she's having a bad week when she is scolded by Nancy Pelosi, hears a demand she resign from President Donald Trump, and wins support from Holocaust denier and ex-KKK leader David Duke.
Read the entire article at:
https://www.philly.com/news/columnists/stu-bykofsky-israel-anti-semitism-ilhan-omar-trope-brendan-boyle-mike-fitzpatrick-adl-jewish-federation-20190212.html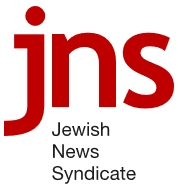 What's in a name? Hebrew origins of Palestinian Arab towns in Judea-Samaria
By Lee Bender
With the approval of U.N. Security Council Resolution 2334, which declares as illegal any Israeli presence beyond the 1967 so-called Green Line, including the Old City of Jerusalem, its Temple Mount (Judaism's holiest site) and the Mount of Olives cemetery where Jews have been burying their dead for more than 3,000 years, and an earlier UNESCO resolution disassociating the Jewish people from Jerusalem and other holy sites, one wonders how the United Nations and UNESCO ambassadors involved in these decisions can keep a straight face.
Given the recorded history of that land from the Bible and other recognized sources, a well-known phrase from Shakespeare is instructive: "What's in a name?" When it comes to Eretz Yisrael, plenty. The place names verify the absurdity of accusations that Jews are colonizers, strangers to this land and "occupiers of" these areas. It is equally absurd to claim that the Arabs are the indigenous peoples of Israel because virtually all the place names used by local Arabs are non-Arabic in origin, and derived either from biblical Hebrew names or from later Greek or Roman names.
Read the entire article at:
https://www.jns.org/opinion/whats-in-a-name-hebrew-origins-of-palestinian-arab-towns-in-judea-samaria/

ZOA Expose: Antisemitic Rep. Omar(D-MN) Funded by Israel-hating BDS Leaders and PACs-Remove Her From Committees!
Zionist Organization of America (ZOA) President Morton Klein and ZOA Director of Special Projects, Liz Berney, Esq. released the following statement:
Again and again, Israel-hating Congresswoman Ilhan Omar (D-MN) has displayed frightening, deep-seated, dangerous antisemitism and hatred towards the Jewish people.
Rep. llhan Omar falsely called Israel "evil" and an "apartheid regime." She promotes anti-Israel boycotts, divestment and sanctions (BDS) – the delegitimization and economic destruction of Israel – after lying to voters about her views on BDS while running for Congress. Ilhan Omar also sought reduced sentences for ISIS terrorists — a position that endangers every American. And she's never apologized for any of these issues.
While the recent condemnations of Rep. Omar by the Democratic House leadership are an important first step, they are not enough, especially in light of Omar's phony "non-apologies," which she immediately backtracked on by again defaming Jews and Israel.
OA initiated the call for real consequences and we continue to call for them: Ilhan Omar must be removed from the House Foreign Relations Committee – a position that enables Rep. Omar to harm U.S.-Israel relations and mainstreams her antisemitism. See "ZOA to Pelosi: Rescind Appt. of Anti-Semite Israel-Hater Rep. Omar to Foreign Affairs Post," Jan. 18, 2019.); and  "ZOA: Remove Anti-Semite Rep. Ilhan Omar (D-MN) from Committee Assignments & Vote on Rep. Zeldin's Antisemitism Bill," Feb. 11, 2019.
See the entire report at: https://zoa.org/?p=390858