Two Upcoming ZOA Events — Register Today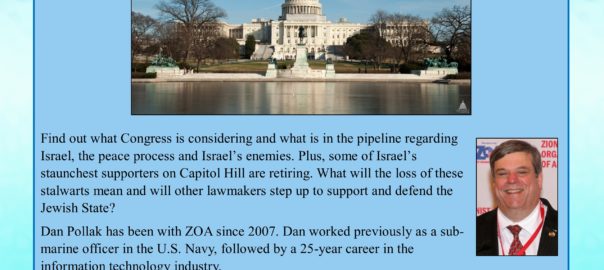 Shalom ZOA Members, Friends and Supporters of Israel,
Please join us for two upcoming opportunities to learn important information which will help us be better advocates for Israel.
See the two flyers below. Both events have limited seating, so we ask that you pre-register for each event.
The first event, on February 21 at 12:30 p.m., features Dan Pollak, who some of you have met during our annual Washington Advocacy Mission. Dan is co-director of
government relations for the Zionist Organization of America and one of ZOA's full-time lobbyists. You must register for this event by calling our Office at 610-660-9466.
The second event, on April 26 at 6:30 p.m., features the wonderful documentary "Body and Soul" followed by the wise and engaging Naphtali Perlberger. You may register at: https://www.eventbrite.com/e/body-and-soul-plus-naphtali-perlberger-tickets-42481355879
Please see details for each event in the respective flyers below. Click each image to enlarge. For more information, call our Office at the number above.