Israel Under Attack — What You Can Do To Help
Shalom ZOA Members, Friends and Supporters of Israel,
As you no doubt know, Palestinian-Arabs in Gaza have struck Israel with some 400 rockets and missiles over the last two days. There has been at least one fatality, with many injured, and thousands in shock. A bus, and an apartment building in Ashkelon took direct hits. Homes have been hit, and one missile landed in a kindergarten. Thank G-d the number of fatalities and injuries have not been greater.
While we may feel helpless – that there is nothing we can do to help our Israeli brothers and sisters – there are certainly many things that we in the Diaspora can do to try to help make a difference. Here are six suggestions: (Please share this list with your contacts and on social media.)
Call the White House!
The White House and the State Department have been supportive of Israel as it defends itself against attacks by Hamas. See the article linked below. Please call the White House to thank them for their support. The White House comment line can be reached at: 202-456-1111.
http://www.israelnationalnews.com/News/News.aspx/254645?fbclid=IwAR0jVsMGmgCKv8r6TRlA4o62G8WzYu2KxcKyAvdmE6a3L5A5dx7I4CD40AI
Monitor the media and be both pro-active and reactive. Call or email media outlets to make sure that they report that Hamas and the Arabs are targeting Israeli population centers, while Israel is alerting all of its targets to clear any buildings or areas that it is targeting. If you see reports that suggest "moral equivalence" – that Israel and the Arabs are equally guilty, or that the media is comparing fatality and injury statistics and thus claiming that Israel's response is "disproportionate," please call or email to correct them. Israel has an obligation to defend itself, and as an ally of America's Israel is blessed to have more sophisticated weapons. If Hamas had such weapons, they would indiscriminately kill thousands of Jews – because that is what its covenant calls for. Contact information for many media outlets can be found here: http://philly.zoa.org/join-zoa-philly/contacting-the-media/
Buy products from Israel to help Israel's economy. Israel has had to fire nearly 100 Iron Dome rocket interceptors these past couple days as well as last week, when the latest rocket attacks from Gaza began. They cost more than $100,000 each. Buy items online or in local supermarkets to help.
Call your members of Congress. Ask them to issue public statements in support of Israel's right to defend itself, and to condemn the Palestinian-Arab leadership for the attacks against Israeli civilians. Contact information can be found here: http://philly.zoa.org/join-zoa-philly/contacting-lawmakers/
Pray! Prayers do help. Pray for the State of Israel, and pray for the men and women of the Israel Defense Forces.
                        Hebrew Prayer for Members of the Israel Defense Force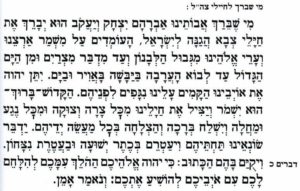 Prayer for Members of the Israel Defense Force
He Who blessed our forefathers Abraham, Isaac and Jacob – may He bless the fighters of the Israel Defense Force, who stand guard over our land and the cities of our God from the border of the Lebanon to the desert of Egypt, and from the Great Sea unto the approach of the Aravah, on the land, in the air, and on the sea.
May Hashem cause the enemies who rise up against us to be struck down before them. May the Holy One, Blessed is He, preserve and rescue our fighting men from every trouble and distress and from every plague and illness, and may He send blessing and success in their every endeavor.
May He lead our enemies under their sway and may He grant them salvation and crown them with victory. And may there be fulfilled for them the verse: For it is Hashem, your God, Who goes with you to battle your enemies for you to save you.
Now let us respond: Amen.
Plan a trip to Israel. Go on a solidarity trip now, or plan to participate in National ZOA's Leadership Mission in February. See all details here: https://zoa.org/mission-events/leadershipmission2019/
For more information, call Greater Philadelphia ZOA at 610-660-9466.