As 2017 closes, please support ZOA
Shalom ZOA Members, Friends and Supporters of Israel,
In this, the last week of calendar year 2017, we ask that you please consider an end-of-year donation to Greater Philadelphia ZOA to help support the work that we do on behalf of a strong, secure and vibrant Jewish state of Israel; a reinvigorated, mutually beneficial U.S.-Israel relationship and a safe Jewish community.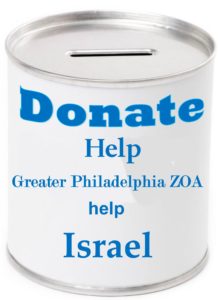 Whether in the public eye or behind-the-scenes, Greater Philadelphia ZOA is constantly working to educate, activate and reach out via events and meetings, correspondence and phone calls; and on media and social media. We highlight Israel's many positive attributes, we combat her foes and we inform and better inform the uninformed and misinformed.
Your donation can help us do even more. Help us challenge BDS with our "Buy Israel" campaign; help us expose and address
anti-Israel media bias; help us look into textbooks to make sure young people are not fed anti-Israel lies in their formative years; help us meet with lawmakers to help them to understand the issues; help us counter local anti-Israel programs and speakers; help us hold more events to help us educate the public; help us to have more literature and other materials so people have a better understanding of the
history and context of the Arab- and Muslim war against Israel.
 There are so many more people in our region we need to reach — you CAN make a difference.
 We thank those of you who have already made a donation to Greater Philadelphia ZOA this year.
Click HERE to go to our Web site to make your donation.
To pay by check made payable to ZOA,  please send your
donation to: Greater Philadelphia ZOA, P.O. Box 56, Bala
Cynwyd, PA 19004. Thank you.
All contributions are tax-deductible to the fullest extent of the law.
For questions, contact us at 610-660-9466 or office@zoaphilly.org