EBulletin for September 20, 2017
Shalom ZOA Members, Friends and Supporters of Israel,
We want to share with you some more moments from our wonderful, enjoyable and inspiring 2017 Gala, and also to publicly thank those volunteers who helped the Gala run smoothly and those businesses and service-providers who helped make our Gala a success. Please see the names of volunteers immediately below, and the names of our business advertisers further down in this email.
We ask that you please patronize as many of those businesses and professionals as you can. Remember to support those who support ZOA! Please tell them that you saw their ad in our ZOA Gala Book! We hope to have a digital version of the Gala Tribute Book and Ad Journal available next week.
We had many volunteers working in multiple shifts to make check-in for our Gala smooth for our guests and so that our volunteers could also enjoy the festivities. Our volunteers for the evening were: Heather Berman,  Barbara Oslick Brown, Marcy Diamond, , Pnina Feiner, Debbie Goldstein, Dan Harris, Betsey James, Beth-Ellen Kroope, Garry Miller, Marcy Pollak, Bernadette Repisky, Ed Rosen, Linda Rosen, Melissa Rosenberger, Edward Rubinstein, Beverly Sher, David Warner, Susan Warner, Roberta Weiss, Stephanie Woloshin and Wendy Woloshin. We are grateful for their help.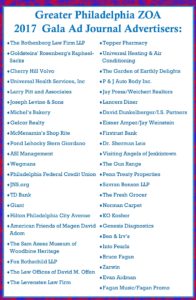 Please patronize the above businesses! Please tell them you saw their ad in our Gala book!
A New Season, A New Membership Drive!
Please Become a Part of the ZOA Family or Renew Your Membership

Click the link below to join
http://philly.zoa.org/join-zoa-philly/
To learn if you are due for renewal, please call our Office at 610-660-9466.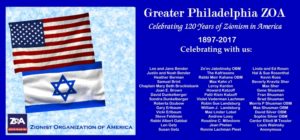 If You Enjoyed the Philadelphia Gala . . .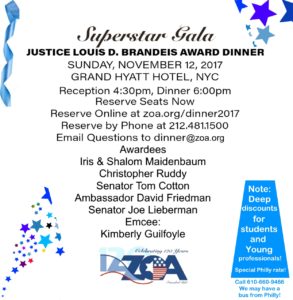 To be a part of the Philadelphia-area contingent for this grand event, call our Office at 610-660-9466.
Special prices for young professionals and students.
Want to Help Inform Others About Israel, the Broader Middle East and the Peace Process?
Greater Philadelphia ZOA maintains an active speakers bureau, suitable for both large events (such as congregations) or parlor meetings. Help ZOA educate others. For more information, see the link:
http://philly.zoa.org/about-zoa/host-a-zoa-speaker/