EBulletin for April 7, 2017
Shalom ZOA Members, Friends and Supporters of Israel,
In two months' time, many of us will take part in what has become an annual ritual that we look forward to every year. Early in the morning we board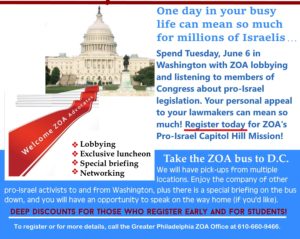 a bus to Washington where for a day we become lobbyists on behalf of a strong, secure and vibrant Jewish State of Israel. We walk through the halls of Congress to appointments with our lawmakers on both sides of Capitol Hill. We have been well-prepped thanks to an assortment of materials and briefings, and we are as expert on our issues as is anyone from "K" Street. It is an exhilarating day; a fun day; a hard day; a rewarding day for our seasoned veterans who participate in ZOA's Pro-Israel Capitol Hill Mission each year, and for those who experience the mission for the first time.
In addition to our lobbying appointments and briefings, the centerpiece of the event is a glatt-kosher luncheon where 20 or more lawmakers – Senators and House members – address us about their support and respect for Israel; their appreciation of ZOA and their gratitude that each of us has taken the time to come to Washington to meet with them.
Please consider participating in the ZOA Washington Mission this year – whether you have participated in the past or whether this will be your first time. The Mission is also an unforgettable experience for students in college, high school or junior high.
The June 6 Mission is two months away, but the generous early-registration discount expires in early May – please take advantage of it. There will be multiple bus pick-ups and drop-offs for your convenience.
Please see our Passover greeting at the bottom of this email.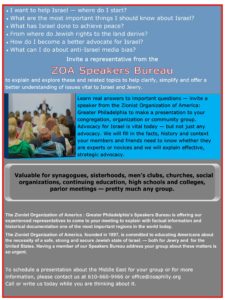 Join ZOA Today!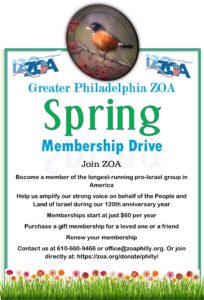 Greater Philadelphia ZOA has begun our spring membership drive. Please consider becoming a member of the Zionist Organization of America.
This is a special year for ZOA as we celebrate the organization's 120th anniversary. We are the lingest-running and most active organization whose primary mission is helping Israel. Through education, advocacy and outreach ZOA is supporting and defending Israel and also strengthening the mutually beneficial U.S.-Israel relationship and the American Jewish community. Join us and be a part of our family.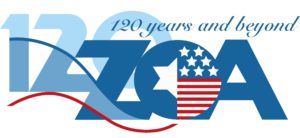 If you are already a member, please make sure your annual dues are up-to-date. If you are not sure, contact us and we will check and let you know. It may be time to renew your membership. Please resolve to become more active in Greater Philadelphia ZOA. This is your organization.
Please invite your friends or relatives to join Philadelphia ZOA, and additionally, you can purchase a gift membership for a loved one.
You can join or renew online by clicking the join/donate tab above. Or you can call us at: 610-660-9466.
We value each and every member!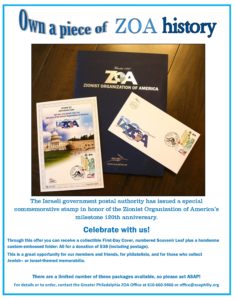 Get Involved in ZOA!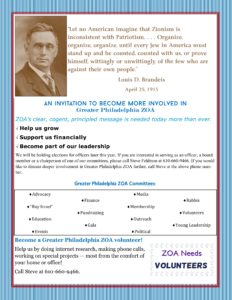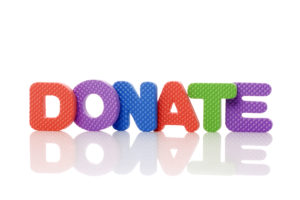 Support Greater Philadelphia ZOA's work on behalf of Israel – right here in our region!
Click on the "Donate" tab above
Time to Ditch Israel's Fake Friends in the American Jewish Community
By Lee Bender
It's getting terribly tiresome hearing and seeing some liberal American Jews complain and harp — that Israel is not doing much if anything "to make peace with the Palestinians" and are not acting with "compassion and justice."  The constantly repeated refrain, including from groups such as J Street, Jewish Voice for Peace, and other BDS supporters, that the status quo is unacceptable; that Israel, which is the much stronger party, and not the "poor" "victim" Palestinian Arabs, must urgently do something now; make concessions; withdraw from "occupied territories" for the sake of a Palestinian Arab state on its doorstep –- dash or else– is all too reflexive. And Israel will of course be isolated and vilified by the world and U.N. if it does not comply.  After all, "we all know what this is going to look like in the end."
Well, maybe not. Maybe it is about time for Israel to say, "thanks for your suggestions, but if it is a choice between placing Israeli lives at risk or your support, then later on."
Israel is actually doing quite well with business and relations around the world these days– despite any problems with the Palestinian Arabs. Israel has tremendously positive things to offer that the world is hungry for: high technology, computers, software, security systems, medical devices and treatments, agricultural, water, and other industry innovations. Israel is an open, democracy that upholds civil, women, minority, and gay rights, has a robust free press, independent judiciary, a parliament where Arab citizens are represented, an independent judiciary, educational opportunities and top health care.  Is everything perfect? No. Can and must Israel do better? Indeed. But these "progressive values" are nowhere to be found in the Arab world.  However, simply being a Jew who does not live in Israel does not give an automatic right to dictate terms to Israel's generals and security officials as to "what is in Israel's best interests." That Israel is a sovereign democracy which elects its leaders is apparently of no consequence to some.
Read the rest of the article at: http://blogs.timesofisrael.com/time-to-ditch-israels-fake-friends-in-the-american-jewish-community/