"Safety, Security, Self-Defense" Workshop on April 9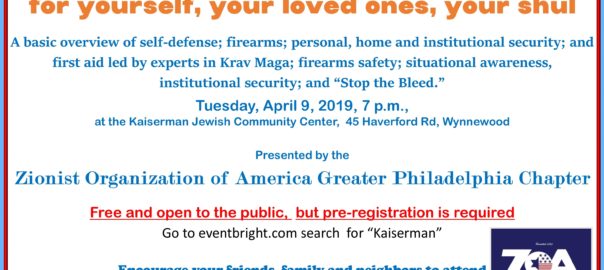 Shalom ZOA Members, Friends and Supporters of Israel,
Please join us for our Greater Philadelphia ZOA special event "Safety, Security, Self-Defense" featuring experts in personal and institutional security, self-defense and emergency first aid. It takes place Tuesday, April 9 at 7 p.m. at the Kaiserman JCC.
See all of the details in the flyer below.
We are asking that you please pre-register to attend this event. You may do so at the Eventbrite link below. This event is free and open to the public.
We are also looking for volunteers to help us before, during and after the event. If you can volunteer or have questions, please call our office at 610-660-9466.
Please let your friends, email lists and social media networks know about this event so that the entire community can benefit.
https://www.eventbrite.com/e/learn-how-to-protect-your-family-yourself-your-home-your-institution-tickets-58398268794