Purchase Gala Book Ads, Congratulatory Notices Now!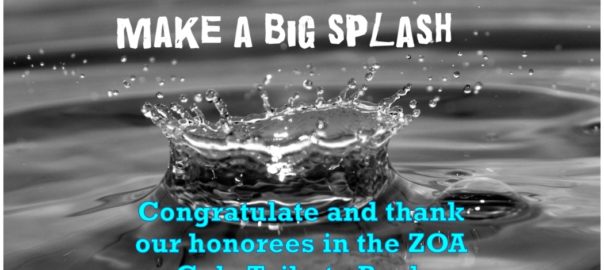 By now we hope you have "met" each of the individuals that Greater Philadelphia ZOA will honor at our Gala on Sept. 24. They are: Malka Kantor-Rapkin, Cliff Rieders, Rabbi Eliezer Hirsch and Dr. Jason D. Hill. These four individuals who are Patriots and Zionists, who are mavericks in their unabashed support for Israel, who are passionate about doing the right thing and put principle over popularity.
We urge you to attend the Gala and enjoy our celebration of America and Israel. It will take place at the Hilton Philadelphia City Avenue.
We hope you will agree that we have a special group of honorees this year, with impressive backgrounds and bold activity – each in their own way — on behalf of Israel and the Jewish People.
We ask that you consider also recognizing them and thanking them in the pages of our Gala Tribute Book. The book will be a keepsake for the honorees and all who attend the Gala. It is also posted on social media and emailed to our large contact list, and available on our Web site. Proceeds from the book make possible many of Greater Philadelphia ZOA's activities and initiatives throughout the year, and also the bulk of the educational materials that we distribute throughout the region.
These are people whom you will want to meet and hear from at our Gala, and who you will want to publicly thank and congratulate in our Gala Tribute Book with a notice of gratitude and "Mazel Tov." To do so, please see the information below.
Please see more information about the Gala, the Tribute Book and Ad Journal below.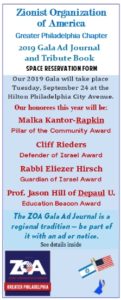 For Greater Philadelphia ZOA's Gala Tribute Book and Ad Journal brochure and our mailing address to pay by check:
http://philly.zoa.org/wp-content/uploads/sites/6/2019/07/gala-2019-ad-blank-5c-2-for-email.pdf
To purchase ads, notices and tickets electronically:
https://www.eventbrite.com/e/2019-greater-philadelphia-zoa-gala-tickets-64577646479
Deadline for ads and notices is August 24. We suggest payment via check so as to avoid the Eventbrite fees.
Please call us with any questions at 610-660-9466.