Upcoming Security/Self-Defense Workshop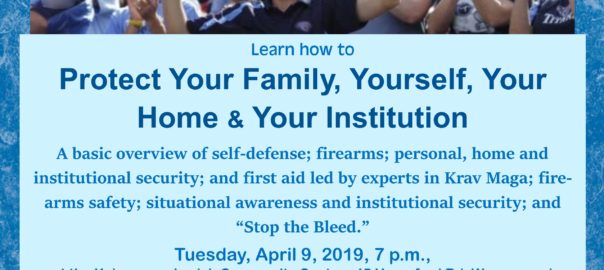 You are invited to attend a special workshop that Greater Philadelphia ZOA is sponsoring titled "Learn how to Protect Your Family, Yourself, Your Home & Your Institution." The event will offer a basic overview of self-defense; firearms; personal, home and institutional security; and first aid led by experts in Krav Maga; firearms safety; situational awareness and institutional security; and "Stop the Bleed" emergency first aid. With acts of Jew-hatred increasing, it is important to have a basic understanding of good practices – just in case.
The event is free and open to the public, but pre-registration is required. You may pre-register at this link: https://www.eventbrite.com/e/learn-how-to-protect-your-family-yourself-your-home-your-institution-tickets-58398268794
The workshop will take place on Tuesday, April 9, 2019, 7 p.m., at the Kaiserman Jewish Community Center,  45 Haverford Rd, Wynnewood.
Please see the flyer below and share it with your friends, your email lists and social-media contacts.
If you have any questions, please call our Office at 610-660-9466.
Purim Sameach!