Newsletter for October 15, 2021

Shalom ZOA members, friends, and supporters of Israel and Zionism,
We hope that our newsletter this week finds you and your loved ones well. For those who are not, we wish for you or them a complete and speedy recovery.
Be Part of Greater Philadelphia ZOA's Leadership
Greater Philadelphia ZOA plans to have elections later this year both for officers and for members of our Board of Directors. Your wisdom, experience, know-how and commitment to Israel and the Jewish People can help our chapter succeed and accomplish more as a part of our inner circle. Brainstorm and work closely with some of our region's most dedicated Zionists to promote Israel and Zionism, strengthen the US-Israel relationship in our region and defend the Jewish community.
All members in good standing are eligible for consideration. To learn more, please call Executive Director Steve Feldman at 610-660-9466.
Advocacy:
"…If I forget you, O Jerusalem, may my right hand forget [its skill].  
May my tongue cling to my palate, if I do not remember you, if I do not bring up Jerusalem at the beginning of my joy. … "
These verses from Psalm 137 illustrate how central and sacred the city of Jerusalem is to the Jewish People. Imagine not being able to speak, or for your right hand to not function well (even if you happen to be a southpaw). For those of you who remember when the Israel Defense Forces liberated the eastern sections of the city including Har Habayit, the Kotel and the Mt. of Olives cemetery (and other holy and integral sites) in 1967, the rejoicing at having the city reunified is a memory that you still hold dear. For those too young to remember: Imagine the Temple Mount and Western Wall and other places could again be off-limits to Jews. We never want Jerusalem to be torn apart again.
Were the United States government to reopen a Consulate in Jerusalem to serve only Palestinian-Arabs, it would be a de facto Embassy and confer legitimacy on their claim that Jerusalem should be the capital of a Palestinian state. The Palestinian Authority is headquartered in Ramallah while Hamas is headquartered in Gaza City. No Arab or Muslim nation or group that has controlled Jerusalem in the past has ever made Jerusalem its capital.
There is no good reason for the U.S. to have a Consulate in Jerusalem today. The United States does not have a separate Consulate in any city where the U.S. has its Embassy. A U.S. Consulate in Jerusalem would be the first step in dividing the city, the eternal capital of Israel and the Jewish People.
The Biden administration announced it will reopen the Consulate earlier this year (It was closed when President Trump moved the U.S. Embassy to its rightful place in Jerusalem as per U.S. law and thus to have a Consulate there was a redundancy.) and Secretary of State Blinken announced this week that the administration is moving forward despite strong objections from the new Israeli government.
We must work to try to prevent this from happening.
What each of us can do is:
Email the White House: Contact form at https://www.whitehouse.gov/contact/
Call the chairs of the Senate and House Foreign Relations Committee:
Senate: (202) 224-4651 (Chairman is Sen. Robert Menendez D-NJ)
House Foreign Affairs: (202) 225-5021 (Chairman is Congressman Gregory Meeks D-NY)
Pro-actively post on social media and on blogs.
Submit pro-active letters to the editor of local and national media.
Ask clergy to speak about this matter from the pulpit and to put notices in congregation bulletins and emails.
All of these steps must happen ASAP if they are to have an impact.
Remember to be concise and polite. Use some of the points in the paragraph above to help make your case against reopening of the U.S. Consulate in Jerusalem.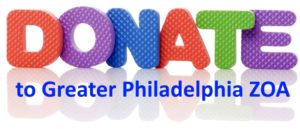 Friends: If you have not yet made a contribution in 2021 in support of Greater Philadelphia ZOA's vital work in our region, please do so – we promise to put your donation to good use.
If you have already donated this year and are able to do so again, please consider another donation at this time. See details about how to donate below.
Thank you.
Please consider making a donation today or at your earliest convenience. You can donate electronically or by check, and you can also set up a regular monthly donation to Greater Philadelphia via Paypal.
To donate electronically, go to: https://zoa.org/donate/philly/
To donate by check, send to:
ZOA
PO Box 56
Bala Cynwyd, PA 19004
We appreciate each and every donation! Please make your donation today while you are thinking about it.
Help Greater Philadelphia ZOA Have a Successful Virtual Gala!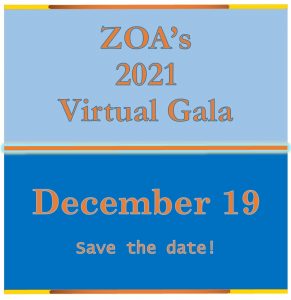 Greater Philadelphia ZOA is looking for members to serve on our Gala Committee. Our Gala is our biggest fundraising event of the year and an upbeat occasion to celebrate Israel and America, Zionism and Patriotism. We will have wonderful honorees both local and national this year who are deserved of recognition for their love and dedication to the Jewish state and the United States. To serve on this committee, please call Steve Feldman at 610-660-9466.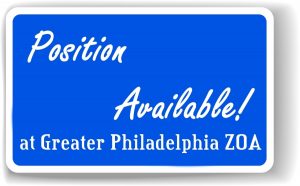 Greater Philadelphia ZOA is looking for part-time help (15 hours per week) to assist our staff in our Bala Cynwyd office. Position entails general office work including answering phones, typing letters, photocopying, getting us ready for meetings and events, etc., plus internet research. If you have bookkeeping skills, that is a plus! Some evening or Sunday work may be required when we have events.
Must have full competence in Microsoft Office software (especially Excel and Word) and internet research .
Must have excellent communication skills and a commitment to accuracy and professionalism.
Knowledge about Israel and related issues, and familiarity with the Jewish community is helpful.
Position is on an independent contractor basis.
Position available immediately.
If you are interested or know of a suitable candidate, please reply to: office@zoaphilly.org with "Position Available" in the subject line. For questions about the position, call 610-660-9466.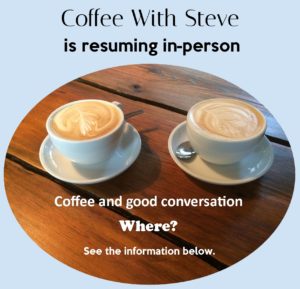 Let's Talk About Zionism, Israel and ZOA – Over Coffee or Another Beverage:
Your questions answered about advocacy, Middle East history, Zionism, the peace process, media bias and ZOA in a one-on-one conversation.
Call our office at 610-660-9466 to make an appointment for Coffee with Executive Director Steve Feldman.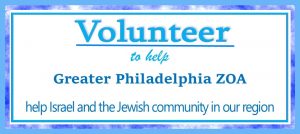 If you are able to lend us some of your time and talent, please call Executive Director Steve Feldman at 610-660-9466. We are looking for volunteers to do some or all of the following: Web research, phone calls, advertising solicitation, help with mailings. We thank Sharon for her help this week.