Newsletter for June 18, 2021
Shalom ZOA Members, Friends and Supporters of Israel,
We hope that this week's Greater Philadelphia ZOA newsletter finds you and your loved ones well.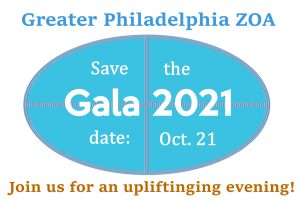 We are excited to announce that our 2021 Gala is scheduled for October 21 at the Hilton Philadelphia City Avenue. G-d willing we will see many of you for our celebration of America and Israel, and honor leading pro-Israel advocates from our region. Come out to share the evening with hundreds of fellow Zionists and Patriots as we enjoy delicious kosher food, hear inspiring remarks from our honorees and guest speakers, and enjoy each other's camaraderie!
While tickets are not on sale just yet, we are taking space reservations for our Gala Ad Journal and Tribute Book to promote businesses and services, congratulate our honorees, express your support for Israel or thank ZOA. Proceeds support ZOA's vital work throughout the Philadelphia area and beyond. For details, please call or email us at 610-660-9466 or office@zoaphilly.org.
Help make our Gala and even bigger success by volunteering as a part of our Gala Team. To learn how you can play an important role in our grand event, please contact us. Thank you!
*     *     *
Please see our latest op-ed in the Jewish Exponent elsewhere in our newsletter.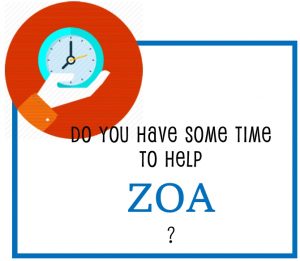 Greater Philadelphia ZOA is looking for volunteers to make phone calls (no soliciting!) and to do internet research.
If you can donate your time, talents and skills, please contact us at 610-660-9466. Thank you!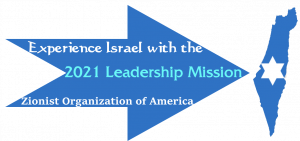 Please join Zionists from throughout America for the 2021 Zionist Organization of America Leadership Mission to Israel, scheduled for August 8 to 15. Registration is open now. See all details elsewhere in this newsletter. Meanwhile, watch a brief video featuring highlights of the 2020 ZOA Israel Mission (it took place just before the pandemic closures!) at the link below.
https://www.youtube.com/watch?v=ND-az_VEX0Q
Advocacy
Just because some "authority" makes a claim, that does not make the claim a fact – and when we hear or read such a false claim or propaganda and know that the claim is false, it is incumbent upon supporters of Israel, Zionism and the Jewish People to act. We act in the hope that there will be a correction, we act to educate the offender and we act to make sure the transgression is not repeated. Earlier this week a ZOA member phoned the Greater Philadelphia ZOA Office to let us know that a KYW News Radio anchorwoman was telling listeners that Jerusalem was "occupied." A check of a recording of the broadcast found that specifically she was labeling part of the undivided capital of Israel as "occupied East Jerusalem." We called the station, spoke with an editor at the station who informed us that the anchorwoman was reading from a report that came from a network. We explained the facts to him and now we are awaiting a callback from the station's news director to seek a correction and to make certain that this error is not repeated.
If you reach out to the media when something is misreported, ask to speak with the highest-ranking person available. Be polite and concise, and explain the error and offer the facts when possible. If you need help with this, please call our Office at 610-660-9466. Also: Please let us know by phone or email about the reporting error that you saw or heard. Thank you for your advocacy


Don't Wait for War to Defend Israel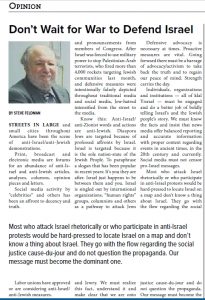 Please see our latest op-ed: "Don't Wait for War to Defend Israel," a call for pro-active advocacy, in the Jewish Exponent. Please send the link for the article to your email lists and post it on social media to encourage others to engage in advocacy.
https://www.jewishexponent.com/2021/06/18/dont-wait-for-war-to-defend-israel/
Participate in National ZOA's Leadership Mission to Israel
This August!
ZOA National President Morton A. Klein and his wife Rita will lead this memorable mission, and you will experience people and places that only ZOA can provide.
See Tentative itinerary and details: https://zoa.org/mission-events/zoa-israel-mission-2020/
Pricing: https://zoa.org/wp-content/uploads/2021/05/ZOA-Israel-Leadership-Mission-August-2021-Pricing-Registration-Without-Payment.pdf
Pre-register now at: https://keshetisrael.formstack.com/forms/keshet_zoa_leadership_2021_registration
To learn more, email Mission coordinator Howard Katzoff at hkatzoff@zoa.org
As a valued leader of the Jewish community, we invite you to be part of a ZOA VIP leadership delegation on a trip to see Israel like you've never seen it before. 
| | | |
| --- | --- | --- |
| Support Israeli leaders in their efforts to strengthen Israeli defense, diplomacy and sovereignty over the Land of Israel and Jerusalem, its capital. | Stay in the five-star Inbal Hotel, centrally located in Jerusalem. The Inbal will be your home away from home for the entire eight days – unpack once, settle in and enjoy. | Join us and see why the Wall Street Journal describes ZOA as "the most credible advocate for Israel on the American Jewish scene." |
Get VIP access to Knesset members, cabinet ministers and security experts. 

Experience firsthand the challenges Israel faces in Jerusalem, Judea, Samaria, and along the Gaza border.

See the people of Israel stand firm in the face of Palestinian terror.

Get behind-the-scenes briefings from local leaders.

Meet some of the remarkable people who have made Israel the only modern, vibrant and dynamic democracy in the Middle East and one of the world's most innovative developers of cutting edge cyber technology and life-saving drugs and medical devices.

Some of the trip's highlights

Judea and Samaria

Meet the Jewish pioneers of Gush Etzion, Judea and Samaria. Be briefed at the leading counter-terror and security training academy in Israel.

Go behind the scenes

Meet with key cabinet ministers and members of Knesset to get insider briefings. Enjoy dinners with prominent speakers and government activists,

press, and representatives of Israeli NGOs for the latest security and diplomatic developments.

Visit the Me'arat HaMachpela 

Meet the extraordinary Jews of Hebron, Israel's first capital, where the Tomb of the Patriarchs is located.

Sderot, the Gaza Border, and the Egyptian Border

Visit the Sderot Hesder Yeshiva where students combine military service with advanced Torah study

And more…

See the IDF train Israeli soldiers in counter-terrorism operations.

Share an event with Lone Soldiers in Jerusalem and meet the heroes serving in the IDF from all over the world.

For more Information contact Howard Katzoff at 212.481.1500 ext. 212

or HKatzoff@zoa.org.
Let's Talk About Zionism, Israel and ZOA – Over Coffee or Another Beverage:
Your questions answered about advocacy, Middle East history, Zionism, the peace process, media bias and ZOA in a one-on-one conversation.
Call our office at 610-660-9466 to make an appointment for Coffee with Executive Director Steve Feldman.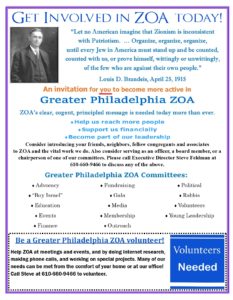 The Iranian Threat:
Because a nuclear-armed Iran poses a truly existential threat to both the United States and Israel, ZOA along with Iranian Americans for Liberty has created a special website to draw attention to the danger. It includes a highly impactful video, an opportunity to engage in advocacy with your members of Congress including a sample letter to send them, and plenty of information. Please visit the site at https://nonuclearholocaust.com/ and be sure to let others know about it!
Remember: Iran supplies deadly rockets, training and millions in cash to Hamas and Palestinian Islamic Jihad murderers and terrorists as well as to Hezb'allah. Any sanctions relief or efforts that do not inhibit Iran's state sponsorship of murder and terrorism will lead to more murder and terrorism!