EBulletin for September 11, 2020

Shalom ZOA Members, Friends and Supporters of Israel,
Greater Philadelphia ZOA is once again calling on you to help us help Israel, the Jewish community and the relationship between the United States and the Jewish state.
We need you to help amplify our work through your advocacy.
We need you to volunteer your time and skills to help us reach more people.
We need you to financially support our work.
ZOA staff and lay leaders are incessantly engaged in supporting and defending Israel, combatting Jew-hatred and strengthening the bonds between Israel and America in a number of arenas. Most of what we do occurs "behind-the-scenes" in the "trenches." We do not issue news releases on everything that we accomplish and the media fails to report on most of what we do – but nevertheless we are doing. But we cannot do it alone. Please engage in the advocacy – whether it is directed at media, schools, politicians or even talking to family and friends. Help educate them; offer them facts; stimulate their intellect.
Greater Philadelphia ZOA needs to reach more people and be in touch more efficiently with our members and supporters, and to accomplish this we need volunteers. If you can spare some time and skills to make calls and do some internet research from your home, please call Executive Director Steve Feldman. There is no soliciting involved in this project!
Your contributions are the fuel that gives us the ability to continue our work at the high-level that you are accustomed to and that the causes we are engaged in require. If you have not made a donation to our chapter recently, please consider doing so now. If you have given us a donation earlier this year, please consider another donation now if you are able. Due to the COVID-19 epidemic, many of our typical fundraising efforts have been hampered.
To learn about advocacy, please see: https://www.youtube.com/watch?v=7yg5nD7UHyE
And: https://philly.zoa.org/join-zoa-philly/advocacyactivism-how-to/
And: https://philly.zoa.org/pdf-resources/
To volunteer, please call Steve at 610-660-9466.
To donate: Send a check to P.O. Box 56, Bala Cynwyd, PA 19004 or click on https://zoa.org/donate/philly/
Thank you in advance!
Click all images to enlarge.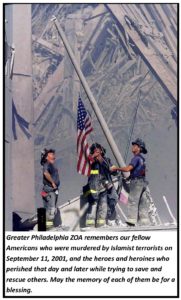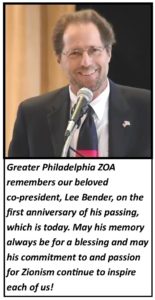 Now Available on YouTube: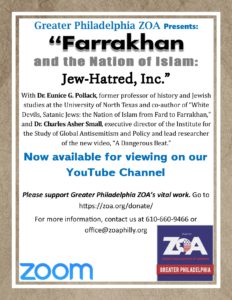 Last night, Greater Philadelphia ZOA had the privilege of featuring two excellent scholars, Dr. Eunice G. Pollack and Dr. Charles Asher Small, to discuss the important topic "Farrakhan and the Nation of Islam: Jew-Hatred, Inc." for a special virtual event. Due to human error, the first 10 minutes of this event was not recorded. We deeply apologize to our guests and sponsor. This event was sponsored by Betsy and David Rentz. We thank them for their support. See the video on our YouTube channel at https://youtu.be/ANOEelnwv7Y.
To support Greater Philadelphia ZOA and learn more about our work and advocacy, please go to www.philly.zoa.org
To sponsor an upcoming Greater Philadelphia ZOA virtual event, call Steve Feldman at 610-660-9466.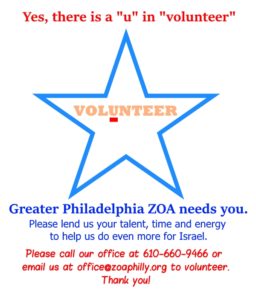 Friends: If you can help Greater Philadelphia ZOA by making phone calls (no soliciting!) and/or help with a mailing, please call Executive Director Steve Feldman at 610-660-9466.
Thank you!
Please Support Greater Philadelphia ZOA!
Now more than ever ZOA's strong voice is needed locally and nationally, and your donations and participation give us that strength and the fuel we need. The level of anti-Israel and anti-Zionist rhetoric and activity in schools, on social media and traditional media and in the political arena is unprecedented in its brazenness. While much of the nation remains shutdown, the Jew-haters have not skipped a beat. Please help us expose them, refute their lies and distortions, and offer a remedy to those who they have "poisoned."
Please make a donation now, while you are thinking about it, to help Greater Philadelphia ZOA.
Go to:
https://zoa.org/donate/philly/
Or you can send a check to:
ZOA
PO Box 56
Bala Cynwyd, PA 19004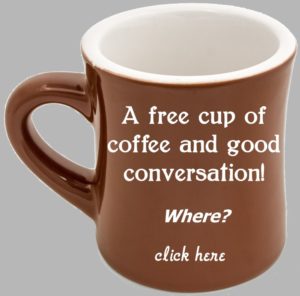 Questions, Concerns, Suggestions?
Want to have a better understand about Israel, or Zionism, or an aspect of the Middle East or the "peace process"?
Want to know more about ZOA or what we are doing, or want to become more involved in our organization?
Let's "meet" via Zoom to discuss Israel, Zionism, the Jewish community and related matters, plus the Zionist Organization of America, what we do and how you can help us. All questions answered!
Email Steve at office@zoaphilly.org to make an appointment or call 610-660-9466.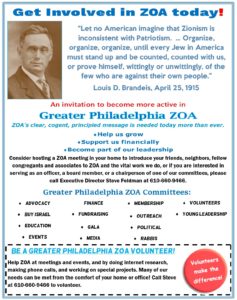 For the Yom Tovim and Break-the-Fast: