Newsletter for August 9, 2019
Shalom ZOA Members, Friends and Supporters of Israel,
With today's email, you will have "met" each of the individuals that Greater Philadelphia ZOA will honor at our Gala on Sept. 24. We urge you to attend the Gala and enjoy our celebration of America and Israel. It will take place at the Hilton Philadelphia City Avenue.
We hope you will agree that we have a special group of honorees this year, with impressive backgrounds and bold activity – each in their own way — on behalf of Israel and the Jewish People.
We ask that you consider also recognizing them and thanking them in the pages of our Gala Tribute Book. The book will be a keepsake for the honorees and all who attend the Gala. It is also posted on social media and emailed to our large contact list, and available on our Web site. Proceeds from the book make possible many of Greater Philadelphia ZOA's activities and initiatives throughout the year, and also the bulk of the educational materials that we distribute throughout the region.
Please see more information about the Gala, the Tribute Book and Ad Journal, and honoree Dr. Jason D. Hill below.
Please also see below an important Action Alert about a problematic new curriculum in K-12 schools.

Greater Philadelphia ZOA has the privilege this year of honoring four truly great individuals at our 2019 Gala: Malka Kantor-Rapkin, Cliff Rieders, Rabbi Eliezer Hirsch and Dr. Jason D. Hill. These four individuals who are Patriots and Zionists, who are mavericks in their unabashed support for Israel, who are passionate about doing the right thing and put principle over popularity.
These are people whom you will want to meet and hear from at our Gala, and who you will want to publicly thank and congratulate in our Gala Tribute Book with a notice of gratitude and "Mazel Tov." To do so, please see the information below.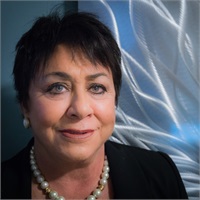 Malka Kantor-Rapkin was born in Tel Aviv prior to Israeli independence. She and her husband-to-be came to Philadelphia in 1964 to study. After graduating from Gratz College, she taught Hebrew and music in Jewish day schools in New Jersey, Michigan and elsewhere.
Motivated by her entrepreneurial spirit, Malka made a change and for more than 35 years had a successful career in the financial services industry, co-founding her own planning and wealth management firm Kantor Financial Group — which today continues to thrive as Certior Financial Group.
Over the past 55 years, Malka has dedicated her time, talent and resources to support Jewish organizations and causes with connections to Israel. She travels annually to Israel to keep close ties with her family and friends, and she continues to cultivate and pass on to her children and grandchildren the family traditions of love, connection and commitment to Israel: past, present and future.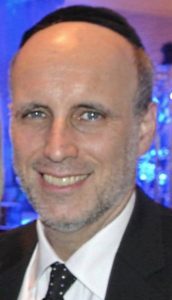 Rabbi Eliezer Hirsch is the spiritual leader and founding rabbi of Mekor Habracha/Center City Synagogue in Philadelphia. Since Mekor's establishment more than a decade ago, he has presided over the synagogue's rapid growth and significant contributions to the flourishing Center City Jewish community.  Under his leadership, Mekor has consistently attracted a diverse membership, including large numbers of young adults.
Rabbi Hirsch seeks to share his devotion to Israel with his congregation by including special blessings for Israel and the IDF in Mekor's Shabbat and holiday services, celebrating numerous congregants who have made aliyah, and expressing a fervent voice for Israel in his sermons.  Many of Mekor's members take his message to heart and follow his example, by becoming active in pro-Israel advocacy.
Not content to limit his support for Israel to his own congregation, Rabbi Hirsch has made a powerful impact across the Philadelphia region.  Steadfast in his opposition to BDS, he has signed rabbinical petitions and attended protest rallies.  In 2015, he joined a Rabbinic Mission to Israel which included a diverse group of rabbis from both Pennsylvania and central New Jersey.  In 2017, he raised funds for Kav L'Noar, an Israeli family services agency, by running the Jerusalem marathon as a member of the Rabbis Can Run initiative. Both personally and on behalf of Mekor Habracha, he contributes to a wide range of Israeli and American nonprofits that provide charitable and political support for Israel.
In addition to leading Congregation Mekor Habracha, Rabbi Hirsch serves as dean of Jewish philosophy for the Association of Hebraic Studies Institute, a distance learning college based in Wesley Hills, NY.
He received rabbinical ordination from the renowned Ner Israel Rabbinical College in Baltimore, and Yeshiva Ohr Reuven in Suffern, NY. He earned a Dual Bachelor's Degree in Talmudic Law and Accounting, and a master's degree in Talmudic Law from Ner Israel. Rabbi Hirsch also completed post-graduate studies in Advanced Rabbinics and Synagogue Management at Touro College and holds Torah U'mesorah teacher certification.  During his two decades of study in Yeshiva, including four years in Israel, he forged close relationships with prominent rabbinic leaders and received years of training from renowned Halachic authorities.
In his sermons and classes, Rabbi Hirsch connects the lessons of the Torah portion and Jewish holidays with insights for everyday life, emphasizing the Torah's eternal relevance for Jews of all backgrounds. With this purpose in mind, he has authored two books: Pesach Without the Pain: A Practical Guide to the Laws and Practices of Passover, and Bringing Order to the Seder: A Modern Guide to the Traditional Passover Haggadah.  At its heart, Bringing Order to the Seder is an impassioned tribute to Zionism and a testament to the Jewish people's inalienable right to the land of Israel.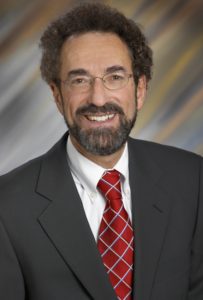 Cliff Rieders has been instrumental in fighting the BDS movement against Israel. He drafted a resolution which passed the Pennsylvania House and Senate unanimously. He was also involved in the drafting of legislation which recently passed the General Assembly in Pennsylvania and was signed by Governor Wolf.
Cliff serves on the National Board of the Zionist Organization of America and assisted in the creation of ZOA's Center for Law and Justice. Cliff is a frequent consultant to President Morton Klein, attorney Susan Tuchman, and others within ZOA.
He serves on the Advisory Board of the New York University Taub Israel Studies Program and has served as president of Congregation Ohev Sholom in Williamsport, Pennsylvania numerous times in the last 30 years.  One of Rieders' daughters, Kaila, has served as an officer in the Israeli Defense Forces and currently resides in Jerusalem, attending law school at Ramat Gan.  Rieders has traveled to Israel on many occasions, and has worked in a variety of causes connected with the State of Israel.  He has written widely, including the widely distributed manual, A Jewish Dialogue.  Rieders has written on and examined numerous pieces of legislation related to Israel and the Middle East, including a critique of the Iran nuclear accords and their danger to the United States and Israel.
Rieders is a partner in the Williamsport law firm of Rieders, Travis, Humphrey, Waters & Dohrmann. He graduated with a Bachelor of Arts, Cum Laude, Phi Beta Kappa, Coat of Arms Society and Academic Scholarships from New York University and received his Juris Doctor from Georgetown University. In Washington he worked for the Maritime Administration, U.S. Dept. of Commerce and for defense counsel Henry Rothblatt in the Watergate case.
Cliff's areas of legal expertise include medical malpractice, personal injury actions, constitutional law and civil rights issues, commercial cases, class actions, complex litigation, and federal law issues.
He has served as president of the Pennsylvania Trial Lawyers Association, now called the Pennsylvania Association for Justice, and the Pennsylvania Bar Association. He is a past chairman of the Amicus Curiae Committee, current member of the Political Action Committee and chairperson of the Pennsylvania Bar Association Health Care Law Committee; Association of Trial Lawyers of America, now called American Association for Justice; Federal Bar Association, Past President of the Central Pennsylvania Chapter; American Law Institute, Consultative Group on Products Liability Restatement of Torts Third, Products Liability, General Torts and Apportionment of Liability projects; Emotional Distress and others.
Cliff is a member of the Pennsylvania Supreme Court Standard Civil Jury Instruction Committee, and a founding sponsor of the Civil Justice Foundation.  He was the first president of Citizens for Consumer Justice, and is a past member of Pennsylvania's Patient Safety Authority.  He has written numerous articles for The Barrister, Trial magazine, and other publications.  He is a frequent op-ed writer. He has received numerous awards for his work and is a frequent lecturer.  He is the author of Pennsylvania Medical Malpractice; Workers' Rights in Pennsylvania; Financial Responsibility Law Issues; Bad Faith in Pennsylvania; Legal Malpractice Claims in Pennsylvania; and Attorney's Fees, Statutes and Laws.


Dr. Jason D. Hill is a professor of philosophy at DePaul University and an unapologetic supporter of Israel.
Hill's article "The Moral Case For Israel Annexing The West Bank — And Beyond," published in The Federalist, struck a nerve in academia. In this article, Hill wrote: "The proper response from Israel should have been to immediately annex the land and make the people there the responsibility of their original political homeland: Jordan.
There can be no such thing as legitimate "Palestinian Territory" in a geographic region legally seized in a defensive war instigated by a foreign aggressor. The purpose of war is always to vanquish the enemy. The losers of the war cannot make demands on the victors that the victors themselves would not have been put in the position of meeting had the adversary or enemy not forced the victors into making it in the first place."
Hill concluded: "One cannot admit anti-Semitics devoted to the destruction of Israel into the domain of Jewish civilization. There has to be some semblance of re-shaping the political sensibilities of those outside the historic process. If this is not possible, then we have to admit to their intrinsic humanity, but also, nevertheless, confess to their tragic status as political ballasts."
DePaul students demanded he apologize and called for Hill to be censured. Fellow faculty members passed a resolution condemning him. Those actions did not stop Hill – they made him press harder, demonstrating true academic freedom and revealing the toxins on America's campuses.
Hill is the author of four books: We Have Overcome: An Immigrant's Letter to the American People, Becoming a Cosmopolitan: What It Means to Be a Human Being in the New Millennium, Civil Disobedience and the Politics of Identity: When We Should Not Get Along, and Beyond Blood Identities: Posthumanity in the Twenty First Century.
Professor Hill is also President and CEO of the Institute for Immigrant Assimilation. He holds a Ph.D. in philosophy from Purdue University and has been a professional writer and book author for more than 30 years. He is a specialist in ethics and American politics and has been published in major magazines including The Federalist, Commentary Magazine, Spiked Magazine, and Salon. He is also a contributor to The Hill.
Hill has lectured and taught extensively in the United States, Europe and Asia. From 2010-2012, a consortium of four universities in England held a series of conferences devoted to Dr. Hill's post-human cosmopolitanism and adopted the moral vision contained therein as part of their mission statements. His scholarly articles have been published in anthologies and journals in Germany, the Czech Republic and The Netherlands. He is also a well-respected motivational speaker. He has been interviewed regularly in various media outlets, including NBC's Today show, The Daily Caller Show, Fox News, Fox Business, Billy O'Reilly's 'NO Spin News,' NPR, NRATV and several other mainstream media. Hill came to the United States at the age of 20 from Jamaica, and he says he "has thrived beyond his wildest dreams. He remains incredibly grateful to this country for its bountiful opportunities."
Dr. Hill will also be our keynote speaker at the Gala!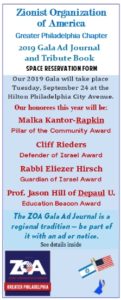 For Greater Philadelphia ZOA's Gala Tribute Book and Ad Journal brochure and our mailing address to pay by check:
http://philly.zoa.org/wp-content/uploads/sites/6/2019/07/gala-2019-ad-blank-5c-2-for-email.pdf
To purchase ads, notices and tickets electronically:
https://www.eventbrite.com/e/2019-greater-philadelphia-zoa-gala-tickets-64577646479
Deadline for ads and notices is August 24. We suggest payment via check so as to avoid the Eventbrite fees.
Please call us with any questions at 610-660-9466.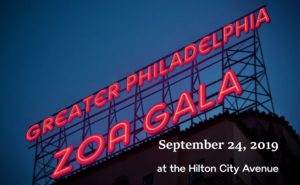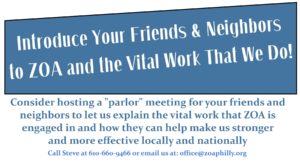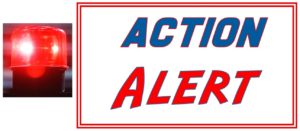 What are schools in your area teaching or planning?
ALERT:
California is considering adopting a new ethnic studies curriculum that is anti-Jewish and anti-Israel. Could something similar be in the works in the state where you live, or in your local schools?
California law requires the State Board of Education to adopt an Ethnic Studies Model Curriculum.  The current draft curriculum is posted for public comment through August 15, 2019.  (You can access the curriculum here: https://zoa.us7.list-manage.com/track/click?u=29eb7d7528ed4ff8219eea4e4&id=0fbb4d67c3&e=fbbbe3ea2e.) After the public comment period closes, the Instructional Quality Commission will review the model curriculum and all public comments, and recommend revisions.
The California Legislative Jewish Caucus strongly objected to the current draft of the Ethnic Studies Model Curriculum (ESMC). Here's what the Caucus rightly said:
Jews are essentially omitted as an ethnic group in the ESMC. While the ESMC specifically discusses bias against other communities, it omits any meaningful discussion of anti-Semitism.
In the few instances where the ESMC actually acknowledges Jews, it does so in a denigrating and discriminatory manner.  For example, the ESMC recommends song lyrics which say that Israelis "use the press so they can manufacture" – a classic anti-Semitic stereotype that Jews control the media.
The ESMC promotes the anti-Semitic, anti-Israel Boycott, Divestment and Sanctions (BDS) Movement, and singles out Israel – the only Jewish state in the world – for special criticism and condemnation that is both out of context and factually inaccurate.
ACTION:
Forward this Action Alert to your friends and family who live in California and post it on social media. Ask them to submit their objections to the ESMC by August 15, 2019, using the public input template provided on the California Department of Education website.  Download the Public Input Template, fill it out using Microsoft Word, and submit it as a Microsoft Word file (.DOC or .DOCX) via email to ethnicstudies@cde.ca.gov.
https://www.cde.ca.gov/ci/cr/cf/esmcpubliccomment.asp?utm_source=ZOA&utm_campaign=b00c849d6e-EMAIL_CAMPAIGN_2019_08_08_11_41&utm_medium=email&utm_term=0_57a3dee48d-b00c849d6e-157928337
Also: Please look around your state's Department of Education web site for curriculum guidelines, proposals and opportunities for you to have input. Be pro-active.
Pennsylvania: https://www.education.pa.gov/Pages/default.aspx
New Jersey: https://www.nj.gov/education/
Delaware: https://www.doe.k12.de.us/
In addition, check the Web site for the school district where you live.
If you see anything anti-Jewish, anti-Israel or otherwise troubling, please let us know at 610-660-9466.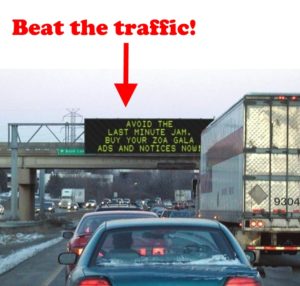 Stimulating Conversation Guaranteed: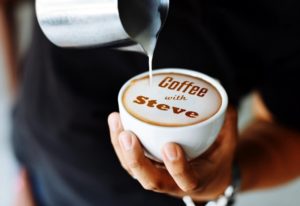 http://philly.zoa.org/wp-content/uploads/sites/6/2017/12/coffee-with-steve-2.pdf
Become a Member of One of ZOA's New Donor Societies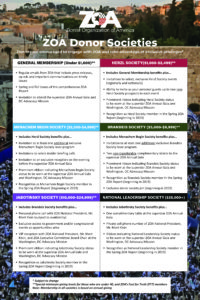 For details, or to become a Donor Society member, please call
Greater Philadelphia ZOA Executive Director Steve Feldman at 610-660-9466.