Newsletter for May 6, 2019
Shalom ZOA members, Friends and Supporters of Israel,
Last month in one of our weekly newsletters, we told you about an event at the National Museum of American Jewish History about attitudes about Israel among young Jews that intentionally sought to distort the picture. We have an op-ed about the matter that was published in this week's Jewish Exponent. Please see it later in this newsletter.
We also informed you recently about the spate of programs and speakers in the area that are either overtly anti-Israel/anti-Jewish or that support interests that look to weaken or end American support for Israel. These efforts seem to be intensifying in our area. In one particularly disturbing event (see immediately below), children were encouraged to sing a song that included the lyrics:
"The blood of the martyrs is calling us. Paradise, men desire it.
Revolutionaries, Revolutionaries …
Sword and Text, oh free men."
And:
"    "Until we liberate our lands, until reach our anchorages, and we crush the traitor.
… Oh, the winds of Paradise. Oh rivers of the martyrs, lads
My Islam calls whoever responds. Stand up, O righteous ones.""
As they sang, the children wore scarves emblazoned with the PLO flag.
The event took place in April at the Muslim American Society (MAS)'s Philadelphia chapter. The MAS center is on Luzerne Street in Philadelphia.
One student read a poem that included the lines: ""We will defend the land of divine guidance with our bodies, and we will sacrifice our souls without hesitation. We will chop off their heads, and we will liberate the sorrowful and exalted Al-Aqsa Mosque. We will lead the army of Allah fulfilling His promise, and we will subject them to eternal torture.""
Click on all images to enlarge: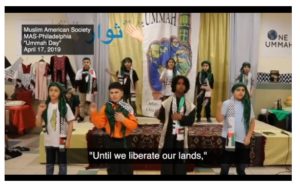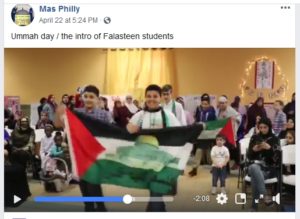 (The above information courtesy of the Investigative Project on Terrorism and the Middle East Media Research Institute). See more on this, including photos, later in this newsletter.
In another event, two of the most virulently anti-Israel figures in America, Susan Abdulhawa and Nancy Mansour (a k a Harrabic Tubman), spoke at an event that took place on the campus of Thomas Jefferson University.
Here is a recent tweet from Abdulhawa: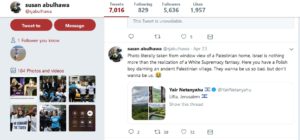 And one from Mansour/Tubman: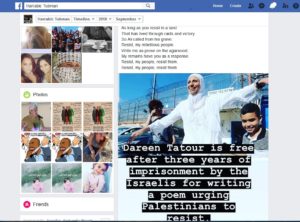 See a list below of some of the other disturbing event and speakers in our area.
ZOA is keeping our eyes on these developments and contacting officials where these activities are taking place in some cases, and in other cases exploring other efforts to combat Jew-hatred, incitement to violence and efforts to break the bond between America and Israel.
ZOA's Capitol Hill Advocacy Mission Is Filling Up – Please Join Us
Unlike some other groups, ZOA's Washington advocacy mission emphasizes quality in addition to quantity. We offer participants an intimate opportunity to meet with, speak to and hear from lawmakers. The traditional luncheon and lobbying takes place on June 20. This year there is an opportunity to participate in a special Mission Kickoff dinner the evening of June 19. In addition to a great meal, ZOA is lining up important speakers, and you will have a chance to network with select fellow lovers of Israel from our region and throughout America who will be at the dinner with you. Dietary laws observed for all meals.
Space is extremely limited this year. Once the Mission sells out, we cannot add anyone.
Greater Philadelphia ZOA will offer bus transportation with multiple pickups/drop-offs on June 20.
For pricing and all other details, please see below or call our Office at 610-660-9466.
We Have Not Forgotten About Temple University's Marc Lamont Hill!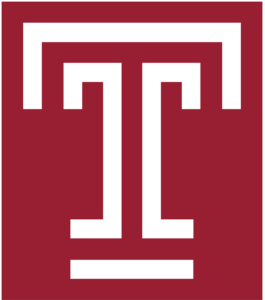 Are you a Temple University alum? Are you the parent or grandparent of a current Temple student?
Greater Philadelphia ZOA has a special opportunity coming up for you to make a difference. Please call our Office at 610-660-9466 for details.
Greater Philadelphia ZOA is looking for a volunteer to help out with data entry in our Bala Cynwyd office one or two days a week. Preferably someone with Excel and Word experience. If you are able to lend us some of your time and talent, please call Steve at 610-660-9466.


The Jewish Museum's Balancing Act
By Steve Feldman and Kevin Ross
You are visiting the playground with your kids or grandkids. Four kids are sitting on one end of the seesaw. The other side is empty. The seesaw, of course, is not moving, and the kids are just sitting there on the ground. Their guardians don't want any of your kids or grandkids to sit on the other side — that might spoil things.
A similar lack of balance played out at the National Museum of American Jewish History on April 17. The museum presented a panel discussion titled "America's Israel Policy: Next Voices." But with three avowed progressives and a fourth person left of center — and no one on the other side — it was (almost) pointless.
The museum billed the program as a discussion about "What matters to young American Jews when it comes to Israel?" with the following description: "In the last decade, new voices have emerged at the forefront of discussions and debate on U.S.-Israel policy — voices that are shaping conversations on college campuses and marching in the streets. In this lively discussion, students join policy experts for a discussion on the present and future of U.S. foreign policy in the Middle East (including Israel and Iran), what matters to young American Jews, and what's at stake on all sides."
But it really was not about "all sides," and apparently was never intended to be.
The event perverted the state of affairs with regard to the Jewish state within the Jewish community. Any viewpoints from the right of center or from observant Jews were intentionally shut out by the museum. It is as if they did not exist. Out of sight — and hearing — out of mind?
Read the article in its entirety at: http://jewishexponent.com/2019/05/03/israel-panel-nmajh/
Greater Philadelphia ZOA is looking for volunteers to help us staff our information tables or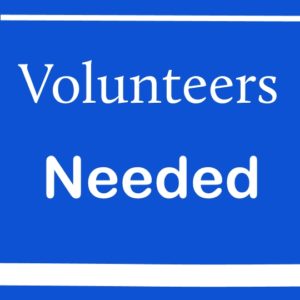 to give our literature at the following events:
May 9: The Israel Independence Day Pop Up Celebration from noon to 2 p.m. outside of the Municipal Services Building in Center City Philadelphia.
June 2: The Bucks County Jewish Festival in Newtown from 10 a.m. to 2 p.m.
June 23: Hava NaGrilla kosher BBQ from noon to 4 p.m. at Temple Beth Hillel-Beth El in Wynnewood.
If you are able to lend us a hand and help promote ZOA, please call us at 610-660-9466.
Thank you!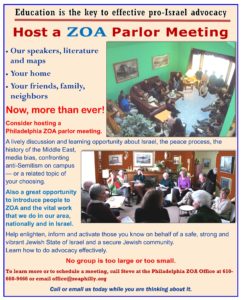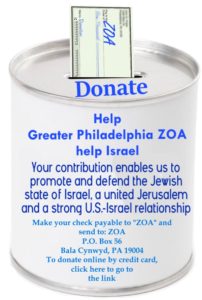 You already know the educational and advocacy work that ZOA does. Help others find out about us and all the good that we do. Help expose your friends, neighbors, family and others to the truth about Israel and the war against Israel and the Jewish People. They won't get it from most of the media, nor many politicians or even educators for the most part. But they will get it and understand it from ZOA – with your help. Host a parlor meeting or a public event with one of our speakers.
Learn more about our Speakers Bureau and what we offer at: http://philly.zoa.org/wp-content/uploads/sites/6/2018/05/speakers-bureau-050418.pdf
ZOA Capitol Hill Advocacy Mission Details:
For Israel's sake, please come to Washington with ZOA to participate in our annual Capitol Hill Advocacy Mission.
The traditional Luncheon and Lobbying Day will take place on Thursday, June 20. This year there will be a special Kickoff Dinner the night before, on Wednesday, June 19, which you will have an option to attend. There will be a special guest speaker at the dinner – we will announce who that will be shortly.
Registration is now open for both of these events. See the link below.
Both the dinner and luncheon will be glatt-kosher.
To register for the Mission, go to the link below. Please see the special instructions later in this email for those of you who want to take the bus round-trip from the Philadelphia area on June 20, or return with us that afternoon if you are going for both days.
https://zoa.org/mission-events/zoa-mission-to-washington/
Why is it important for you to participate in ZOA's Capitol Hill Advocacy Mission this year?
These times remain perilous and much of the world remains hostile to the Jewish State of Israel.
There are now a number of overt public anti-Semitic Israel bashers in Congress. They have repeatedly made hateful statements against the Jewish State and the Jewish people – with no consequences.
Mahmoud Abbas' Palestinian Authority (PA) has codified into Law its policy to pay Arabs to murder Jews and the more Jews an Arab has killed, the higher the pension. These killers are also guaranteed a top government job once they get out of prison. The PA spends $400 million a year on these rewards.
The Palestinian Authority never ceases to promote hatred and violence against Jews in their schools, media, speeches, and sermons. They continue to officially praise Jew killers as martyrs.
Iran continues to threaten Israel with its buildup of missiles and its nuclear program.
You can help educate our lawmakers in Washington, D.C. about the perils that Israel faces – which also affect our own country's security. You can have a voice in shaping U.S. policies that are beneficial to Israel and the U.S.
In addition to the optional kickoff dinner, the Mission includes:
Attend a briefing from the ZOA Government Relations department on the issues affecting Israel and the U.S.-Israel relationship;
Participate in a special kosher luncheon on Capitol Hill with members of Congress, in a magnificent Senate room where dozens of members of the House and Senate will address our delegation;
Meet our professional lobbyists, and other ZOA activists from around the country;
Meet with your representatives in the House and Senate and/or their top aides to talk about issues affecting Israel and the US.-Israel relationship.
You must pay for the Mission via National ZOA. You can pay by check or credit card. To pay by check, call 212-481-1500. You can also pay with a credit card via phone. To pay online, go to https://zoa.org/mission-events/zoa-mission-to-washington/
See the instructions in the images below if you choose to pay online.
For those who want to go on the Mission for June 20 only: Our Greater Philadelphia bus will leave from Northeast Philadelphia and Merion Station. If there is enough demand, we will try to include a pick-up/drop off from Center City and perhaps Bucks County. You must call our office to reserve your bus spot and pay in advance. To pay for the bus, send a check for $55 per person to: ZOA, P.O. Box 56, Bala Cynwyd, PA 19004.
To pay by credit card, you can do so online at our Web site. The cost will be $58.30 per person, which includes processing fees.
Go to: https://zoa.org/donate/philly/
Please see all Mission registration and bus instructions in the images below.
If you have any questions or for more information, please call us at 610-660-9466.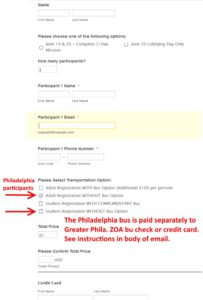 To pay for the Philadelphia bus by credit card:
Go to this link:
https://zoa.org/donate/philly/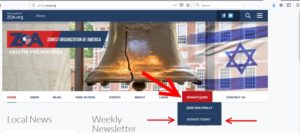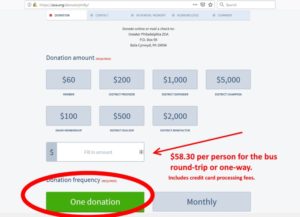 Some Recent Local Anti-Israel Activities:
"Medicine Not Bombs" took place in April at Thomas Jefferson University. One of the panel discussions during theevent focused on "Conversation on Advancing Black Solidarity with Palestine." Among the speakers were Susan Abdulhawa, who among her many activities was spearheading the effort to get the Philadelphia Orchestra to cancel its concerts in Israel last year and who has tweeted virulently anti-Israel messages, and Nancy Mansour (a k a "Harrabic Tubman") who heads the anti-Israel group "Resistance is Existence" and is an ally of Marc Lamont Hill's. Partners in the event included the Students for Justice in Palestine chapters at Temple and Penn,  Jewish Voice for Peace-Philly and Philly BDS. Among the sponsors were: Jefferson Global Health and Penn Center for Global Health.
***************************
Drexel University's Muslim Students Association recently had an event on the theme: "Taking Back the Narrative." The keynote speaker was Hassan Shibly. Shibly has said about Hezb'allah: "They're absolutely not a terrorist organization."
Here is one of Shibly's tweets: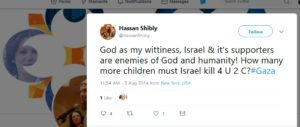 ***************************
The Islamic Circle of North America had a fundraising dinner in April for its Philadelphia health clinic. The keynote speaker was Sheikh Abdul Nasir Jangda who has repeatedly spoken ill of Jewry.
**********************
Pennsylvania Gov. Tom Wolf appointed CAIR-Philadelphia Education and Outreach Director Dr. Ahmet Selim Tekelioglu to his Census 2020 Complete Count Commission. CAIR has a history of local and national anti-Jewish and anti-Israel activity.
*******************
AIM Academy in Conshohocken had a virtual international exchange event via the Shared Studios program with participants in several countries and the Gaza Strip – which it identifies as "Gaza City, Palestine." According to a Philadelphia Inquirer report on the event: "AIM students discussed matters [with Gaza representatives] as heavy as the political situation in the Gaza Strip [with one telling the students:] ("We are totally closed. … There are things you are forbidden to do," … ."
ZOA is keeping our eyes on these developments and contacting officials where these activities are taking place in some cases, and in other cases exploring other efforts to combat Jew-hatred, incitement to violence and efforts to break the bond between America and Israel.
Become a Member of One of ZOA's New Donor Societies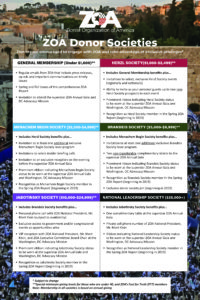 For details, or to become a Donor Society member, please call
Greater Philadelphia ZOA Executive Director Steve Feldman at 610-660-9466.