See Israel As Only ZOA Can Show it To You!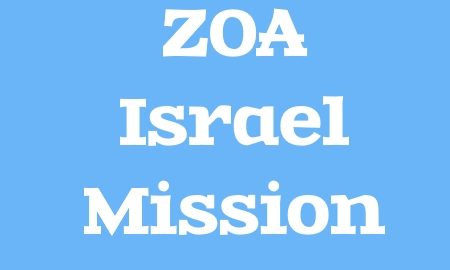 Register For ZOA's Israel Leadership Mission!
Time is running out to be a part of this once-in-a-lifetime Israel experience!
The Israel Mission takes place Feb. 24-28, with an option to extend to March 3.
To lea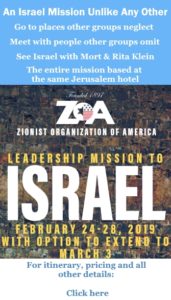 rn more about the National ZOA Leadership Mission to Israel – including itinerary and pricing — click on the link below.
https://zoa.us7.list-manage.com/track/click?u=29eb7d7528ed4ff8219eea4e4&id=7c4143ee5f&e=c425e48090
 Mission highlights:
Briefing with Ambassador Dore Gold, President Jerusalem Center for Public Affairs
Visit the new US Embassy in Jerusalem
Head to the Knesset as a ZOA Delegation led by ZOA President Mort Klein for meetings with Knesset
Members
Briefing at Caliber 3,  the leading Counter Terror & Security Training Academy in Israel
Meet Efrat Mayor Oded Revivi
Join IDF soldiers for a behind the scenes briefing
Head to Hebron – meet leaders of the Hevron Jewish community and visit the
Me'arat Hamachpelah
Visit Sderot and meet with its mayor
Join Ateret Kohanim for a behind the scenes tour of the Old City of Jerusalem
Head to a base of the Border Police and get a behind the scenes view of how the IDF trains its soldiers in
Counter-terrorism
If you have an interest in going, please call Howard at the National ZOA Office at 212-481-1500.
If you'd like, we can put you in touch with people from our region who have participated in previous ZOA Israel missions.