Pro-Israel Counter Demonstration at Temple University on December 6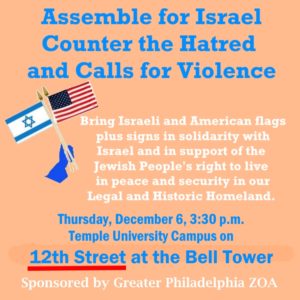 Greater Philadelphia ZOA is sponsoring a pro-Israel counter-demonstration to oppose a rally in support of anti-Israel/anti-Jewish Professor Marc Lamont Hill on Thursday, Dec. 6, 2018.
We will assemble peacefully near their rally. Please bring Israeli and American flags, as well as signs with slogans expressing solidarity with Israel and in support of Israel's right to self-defense.
Please let others know about this event! It is especially important to have students and young professionals attend.
We will assemble at 3:30 p.m. on 12th Street at the Bell Tower on the Temple Campus.
Here are some ideas for slogans for your signs:
"Israel has a right to defend itself against murderers and terrorists"
"Jews are indigenous to Israel"
"End Palestinian violence"
"Stop inciting Jew-hatred"
"Students Deserve Facts, Not Lies"