2018 Gala tickets on sale! Experience a warm, inspiring patriotic and Zionist evening!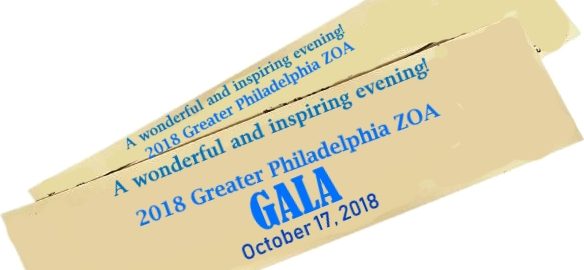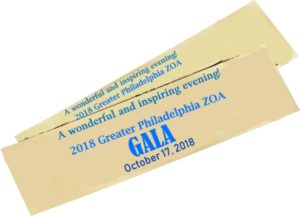 We would like to sincerely thank those businesses, service-providers and individuals who have placed ads or congratulatory notices in our Gala Tribute Book and Ad Journal!
We are offering you one more opportunity to be a sponsor of our 2018 Gala, which takes place on Wednesday, October 17. On the tables and on each seat, we will place a program card giving Gala guests a rundown of the evening's remarks and presentations. On the card will be an exclusive promotional opportunity for a business or firm or an individual to reach every Gala attendee.
To have your logo, name or other information on the program, please call or email our Office as soon as possible: 610-660-9466 or office@zoaphilly.org
Meanwhile, tickets are on sale to attend our annual celebration of America and Israel, Patriotism and Zionism as we enjoy an evening of camaraderie, inspiring speeches, delicious kosher food – and pay tribute to some of the most active and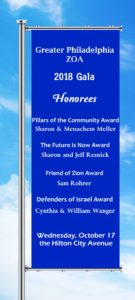 dedicated Zionists in our region.
The Gala takes place on Wednesday, October 17, at the Hilton Philadelphia City Avenue.
General admission tickets are just $200 each.
Tickets for young professionals (ages 30 and younger) are just $100 each.
Tickets for full-time students are just $36 each.
To purchase tickets by check, made out to "ZOA," send to ZOA, 1c Belmont Avenue, Suite 601, Bala Cynwyd, PA 19004.
To purchase electronically, please click on the Eventbrite link or the url below.
Questions or need more details? Please call us at 610-660-9466.
All proceeds benefit Greater Philadelphia ZOA's vital educational, advocacy and outreach activities and initiatives!
Please click on images to enlarge.