At this critical juncture, with Iran sanctions and a cut in aid to the Palestinian Authority under consideration, we need to send a strong message to Congress to support these measures and others.
Phone calls, emails, faxes and petitions are each important — yet nothing makes a greater impact on individual members of Congress than taking the time to travel to Washington to meet with the lawmakers and their staff face-to-face in their offices. These are small-group meetings. You will have a chance to speak and be recognized.
On June 6, we can go to Washington together as ZOA members and activists and speak with one strong voice in support of the legislation and issues that will keep Israel and the United States strong and secure.
Take a day to make a difference!
Please let your friends know about the ZOA Pro-Israel Capitol Hill Mission and encourage them to go – even if you are not able to attend. Also, if you cannot attend, please consider a donation to help a student or someone who is unable to afford to attend participate in the Washington Mission this year.
See the graphic for more information and prices below.
Cost of the Mission only: Early-registration rate is $159 (Until May 1). Students: $75 (Until May 1) Price goes up to $209 for the mission after early registration ends.
(Register and pay via National ZOA. Call 212-481-1500)
Travel to Capitol Hill with us by bus from the Philadelphia area: Pick-up locations in NE Phila., Bala Cynwyd, (Center City if sufficient demand).
Bus $55 additional per person (This year we are asking that participants pay for the bus in advance). Please call Greater Philadelphia ZOA first to reserve your seat(s) at 610-660-9466.
Please send checks payable to Greater Philadelphia ZOA to: ZOA, P.O. Box 56, Bala Cynwyd, PA 19004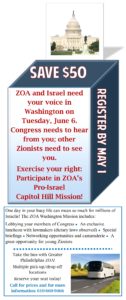 Older