EBulletin for October 11, 2017
Shalom ZOA Members, Friends and Supporters of Israel,
When it comes to Israel, the Arab and Muslim war against the Jewish People and the broader Middle East: There is so much misinformation, partial stories, twisting of history both deliberate and unintentional — it is enough to either make you want to throw your hands up or cry. But we who are both advocates for Israel and advocates for truth cannot afford to cry nor throw our hands up.
ZOA is a source of honest, factual, up front, rational information. Those of you who are active in a congregation – Jewish or Christian, or an organization, club, civic group or any other regular gathering can help others in that group (and beyond) learn the truth and be a more discerning consumer of news by inviting a representative from the Greater Philadelphia ZOA Speakers Bureau to speak to your group or congregation. We discuss a wide variety of topics in both formal and informal settings. We will custom-fit a program to suit your needs. You select the topic or topics and we will be there.
A presentation from ZOA doesn't even have to be before a large group – you can host a parlor meeting for friends, neighbors and family. We will explain as much as we can and answer all of your questions about these critical subjects. These events benefit those who attend, and the State of Israel and the Jewish community.
To learn more, please click on the graphic below.
Want to Help Inform Others About Israel, the Broader Middle East and the Peace Process?
Please check your mailbox for a special letter from Greater Philadelphia ZOA that some of you will be receiving this week and next week.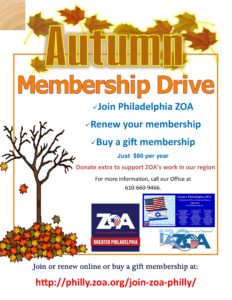 Click the link below to join
http://philly.zoa.org/join-zoa-philly/
To learn if you are due for renewal, please call our Office at 610-660-9466.

For bus information and to reserve, special pricing and other questions:
Please call our Office at: 610-660-9466.