EBulletin for Sept. 1, 2017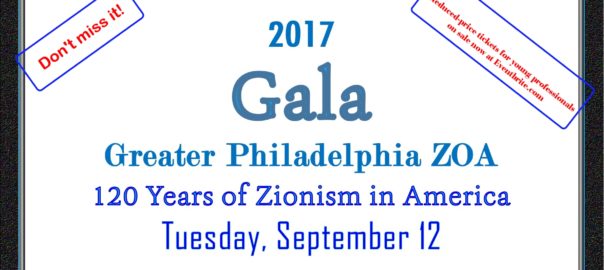 Shalom ZOA Members, Friends and Supporters of Israel,
We are eagerly looking forward to welcoming many of you to our annual Gala, taking place just less than two weeks from now – on September 12. Tickets for the Gala are available now.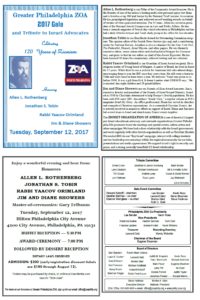 While we look forward to seeing and being with so many of our members and friends from throughout our immediate region and beyond; young and old; Jews and Christians – the main purpose of our Gala in addition to celebrating Israel and America is honoring some tremendously dedicated and passionate Zionists. Our honorees work tirelessly to help Israel whether from a pulpit, in the realm of journalism, or via the courtroom and the checkbook. Each of our honorees: Allen L. Rothenberg, Jonathan S. Tobin, Rabbi Yaacov Orimland and Jim and Diane Showers understands not only that one person can make a difference, but also that we each have a role to play; to use our talents and skills as best we can to help Israel as part of our daily lives.
Tickets to our Gala are still available and we have special discounted tickets for young professionals and an even better price for students. Please see ticket information below. But first we want to tell you about two of our honorees – Jim and Diane Showers – who will receive our Friends of Zion Award at our Gala.
 Dr. Jim Showers is the executive director of The Friends of Israel, a worldwide Christian organization founded in Philadelphia in 1938 by Christians determined to help Europe's beleaguered Jewish population. Today it is headquartered in Deptford, NJ.
Jim joined The Friends of Israel (FOI) in 2002 as director of finance, treasurer, and chief financial officer. He then served as executive vice president and became president and executive director in May 2012.
Jim's personal warmth, knowledge, and wisdom, as well as his devotion to the Lord and sincere love for Israel and the Jewish people, are qualities everyone at FOI has valued. In 2012, he developed the Hesed "Loving Kindness" Project, FOI's adult-volunteer program in Israel.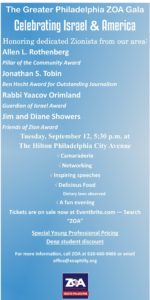 Jim speaks at conferences, churches, and schools nationwide; is a frequent participant in events supporting Israel; and is a strong advocate of the country's growing Jewish-Christian alliance. He also has helped lead two joint Jewish-Christian trips to Israel and is the leader of the semi-annual Friends of Israel Up to Jerusalem tours.
Jim authors "Inside View," a regular column featured in FOI's magazine Israel My Glory, with a readership of over half a million in 151 countries. His popular series "The Black Sheep of Christendom" exposing the dangers of "replacement theology" was originally published in Israel My Glory.
Jim earned both his master of divinity and doctor of ministry degrees from Baptist Bible Seminary. His doctoral thesis was titled, "May They Prosper Who Love You: A Case For Christian Zionism."
Diane Showers supports Jim to build solidarity with the Jewish community. She was born and raised in Goshen, IN. From the time she became an active Christian at a young age, she has known and expressed a love for the land of Israel and the Jewish people. As an office professional, Diane has served in churches and evangelical Christian organizations.
Motivated by the special place Israel and the Jewish people have in her heart, she has followed the Lord's command in Genesis to bless the descendants of Abraham, Isaac and Jacob. In 2003 and 2007, Diane was a part of the joint Jewish and Christian trips to Israel. She has helped Jim lead several tours to Israel and attends many events with him. As a committed Christian Zionist, Diane is actively involved in numerous efforts in support of Israel. Jim and Diane live in southern New Jersey and have two married children and four grandchildren.
*             *             *
We  ask that if you have not already purchased Gala tickets to please do so as soon as possible so that you can be present to see us award Jim and Diane Showers and our other honorees, and to hear the inspiring remarks from all of the honorees on Sept. 12. Dietary laws observed. The event will take place at the Hilton Philadelphia City Avenue. Gary Erlbaum will be master-of-ceremonies; our national president, Mort Klein, will offer remarks; and a representative of the Israeli government will bring greetings from Jerusalem. We will also have rousing renditions of the American and Israel national anthems.
Please see a copy of the invitation and response card below. You may purchase tickets immediately by credit card at: Eventbrite. Click on the logo below.
You can also purchase tickets by check. For pricing and to reserve your tickets, please call us at 610-660-9466 or reply to this email.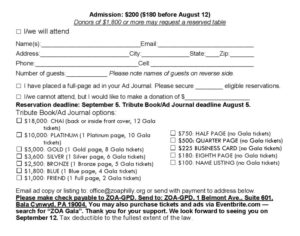 What Happens at a Greater Philadelphia ZOA Gala?
In a word: Plenty. Delicious glatt-kosher food and also assorted beverages and networking opportunities during our 90-minute cocktail "hour." That is followed by the award presentations and acceptance speeches from our honorees. They are followed by a sumptuous dessert reception with more delicious delicacies and opportunities to mingle and network.
Please click on the photo below to watch the award ceremony from our 2016 Gala. We hope you can join us on Tuesday, Sept. 12, for another enjoyable and inspiring evening.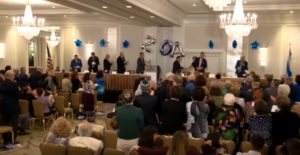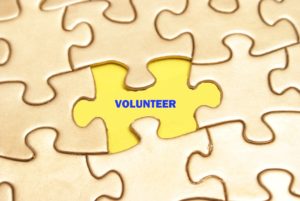 Volunteers Needed!
Greater Philadelphia ZOA is looking for two volunteers
on September 7 to help us prepare materials for our Gala.
If you are able to help out for a few hours
in our Bala Cynwyd Office, please call us at 610-660-9466.
Thank you in advance.
What's in Your Kid's Textbook?
School will be starting again shortly, and there are reports about troubling content in many books used in American classrooms – content that is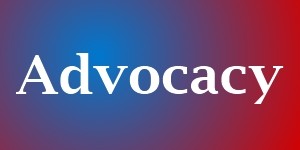 inaccurate when it comes to Israel and Israel's enemies. It is important to thumb through textbooks to see what your children or grandchildren are being taught.
We have available our Greater Philadelphia ZOA Textbook Survey Form to help you as you peruse the schoolbooks. To request a copy, please reply to this email and we will send you one.  Print it out, look through any books or other materials, fill out the survey form and return it to us scanned and emailed or by regular mail. We will follow-up on any false or misleading information.
Want to Help Inform Others About Israel, the Broader Middle East and the Peace Process?
Greater Philadelphia ZOA maintains an active speakers bureau, suitable for both large events (such as congregations) or parlor meetings. Help ZOA educate others. For more information, see the link:
http://philly.zoa.org/about-zoa/host-a-zoa-speaker/
Buy Israel!
The yom tovim are almost here. Serve goods from Israel at your Rosh Hashanah meals and break-the-fast feasts:

When you do your food shopping, remember to "Buy Israel." See our "Buy Israel" project flyer at the link:
http://philly.zoa.org/wp-content/uploads/sites/6/2016/02/buy-israel-flyer-revised-january-2016-p.pdf