EBulletin for August 4, 2017
Shalom ZOA Members, Friends and Supporters of Israel,
One of the more relentless and vicious anti-Israel and anti-Jewish personalities in the entertainment world will be in our area next week, and Greater Philadelphia ZOA has been at the forefront locally of not only alerting the area media to musician Roger Waters' hateful agenda and lie-filled attacks, but we have also reached out to the venue where he is performing and radio stations that are promoting him.
Roger Waters was the bassist and chief lyricist for the band Pink Floyd. He has become one of the most visible and vocal proponents of BDS. On stage, in a documentary, in interviews, on the pages of major publications and on social media Waters not only attacks the Jewish State but also any performers contemplating playing there.
By certified mail and email we asked officials at the Wells Fargo Center, where Waters is playing three concerts, to issue a disclaimer during his shows distancing the arena from Waters' anti-Jewish invectives. We are genuinely concerned Waters could trigger an anti-Semitic attack. Also by certified mail and email, we wrote to officials at two radio stations that have been promoting the Waters concerts, WMMR and WXPN, to ask them to stop promoting the shows. WMMR was also giving away tickets to the concerts.
Our main point was that the venue and the stations are in essence projecting that a performer can be virulently anti-Jewish and yet still fit to host on stage and promote on the airwaves of major stations in a major market. Since Waters only attacks Israel and since his distorts historical facts and contemporary situations to do so, it is clear to ZOA that his motive is to incite Jew-hatred and not to accomplish social justice.
We sent news releases to a number of local and national media outlets. Our efforts thus far were featured in the Philadelphia Daily News and Philadelphia Inquirer, the Jewish Exponent and "The Dom Giordano Show." See below We are hoping for more media coverage on the subject next week. We also submitted different op-eds to the Inquirer and the Exponent.
Greater Philadelphia ZOA is leading the way in exposing anti-Israel/anti-Jewish figures who come to our area.
At Greater Philadelphia ZOA, we are in what we affectionately call "Gala Season." The big event, of course, takes place on Tuesday, September 12 at the Hilton Philadelphia City Avenue. We have a wonderful and deserving lineup of honorees who will each inspire you with all of their pro-Israel activities; plus the master of masters-of-ceremonies,  communal leader Gary Erlbaum; and remarks from our National President, Morton Klein.
Tickets are on sale now at:
Time is running out to promote your business or service or congratulate our honorees in the pages of our Gala Ad Journal. Proceeds benefit Greater Philadelphia ZOA's initiatives and activities throughout our region. See the graphic below. Questions? Call us at 610-660-9466.
Note: For each ad or notice of $500 or more, we will send you a free Israeli Postal Service commemorative First-Day Cover and Souvenir Leaf of the stamp the government issued to mark ZOA's 120th anniversary.
https://www.eventbrite.com/e/greater-philadelphia-zoa-gala-tickets-35826890193
http://philly.zoa.org/wp-content/uploads/sites/6/2017/06/gala-2017-ad-form-for-email.pdf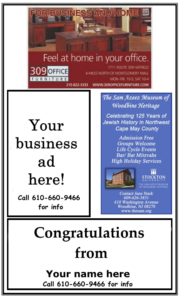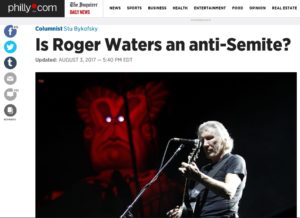 http://www.philly.com/philly/columnists/stu_bykofsky/is-roger-waters-an-anti-semite-20170803.html]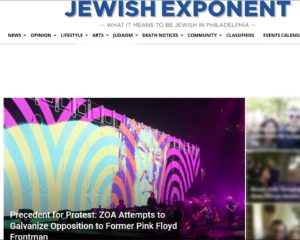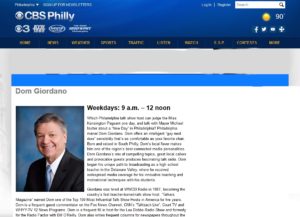 Click on the link below to hear Dom Giordano's interview with Steve Feldman
http://www.podtrac.com/pts/redirect.mp3/omnystudio.com/d/clips/4b5f9d6d-9214-48cb-8455-a73200038129/921d0679-b5b8-4bc4-9959-a78e00b59a8f/0650427b-84fe-49f3-9d25-a7c500f594b3/audio.mp3?utm_source=Podcast&in_playlist=868e604a-bfd5-40b7-a247-a78e00b59a8f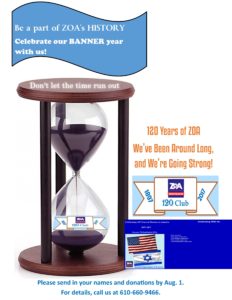 Greater Philadelphia ZOA's "120 Club" is a special commemoration of our organization's 120th anniversary. We are having a distinct banner made to mark the occasion and for a small donation you can place your name or the name of a loved one on this banner. The banner will be displayed at all of our special events and meetings, as well as electronically on our Web site, our social media pages and in our emails. ZOA will only turn 120 once. Be a part of this historic anniversary.
For each donation of $36, you can designate one name on the banner. The banner will be limited to the first 120 names.
Send "120 Club" donations and a note with the name(s) to: ZOA, P.O. Box 56, Bala Cynwyd, PA 19004. Please note "120 Club" on the memo line. To donate by credit card, go to: https://zoa.org/donate/philly/ scroll down to the option that says "fill in amount." Designate $36 per name and then click "one donation" then click "next." Please send us an email with the subject line "120 Club" along with the amount and the name(s) you would like on the banner.
Thank you!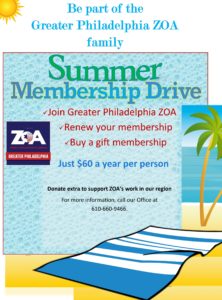 Click the link below to join
http://philly.zoa.org/join-zoa-philly/
Other Events of Interest:
Hava NaGrilla Smoke BBQ Festival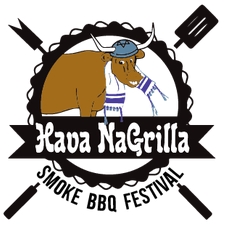 The Men's Club of Temple Beth Hillel-Beth El will host the first annual Kosher BBQ Championship in the mid-Atlantic region, certified by the Kansas City Barbeque Society on Sunday, August 27 at the synagogue, 1001 Remington Rd. Wynnewood, PA 19096, beginning at 11:00 AM
There will be a pickle eating contest, face-painting for the kids, a wandering magician, craft artisans, mechanical bull riding, educational & interactive  booths (how to make the perfect matzah ball, how to clean a barbeque grill, how to make a grill into a smoker, have your swing analyzed by a PGA professional and more…). Come and visit the Greater Philadelphia ZOA table while you are there!
For all of the details, go to: https://phillykosherbbq.com/
Greater Philadelphia ZOA will need volunteers for this event. If you would like to help at our table at Hava NaGrilla, please call us at 610-660-9466.