EBulletin for July 14, 2017
Have a Business? Know Someone Who Does?
Why not promote your business or service – or theirs – in Greater Philadelphia ZOA's 2017 Gala Ad Journal?
Everyone who attends our Gala will see the book, plus an electronic version will be emailed to our members, supporters and contacts; it will be on our social media sites; and on our Web page. Throughout the year, we remind people via email to check out the book online and patronize our advertisers.
Ads are a great way to reach potential new clients or customers. They also enable Greater Philadelphia ZOA to have programs and activities throughout the year to educate, advocate and reach out on behalf of a secure, strong and vibrant Jewish State of Israel; a strong mutually beneficial U.S.-Israel relationship; and a secure Jewish community.
Don't have a business?

Please consider placing a notice to congratulate our honorees and to thank them for what they do throughout the year for Israel; to state your support for Israel; or perhaps to salute ZOA during our 120th anniversary year.

Please see the link immediately below for an electronic version of our ad-space reservation form. Below that is a link to our Eventbrite page, where you can purchase an ad or notice electronically. Some ads/notices include tickets to our Gala. If you have any questions, please call our Office at 610-660-9466.

Thank you in advance for your support!

http://philly.zoa.org/wp-content/uploads/sites/6/2017/06/gala-2017-ad-form-for-email.pdf

https://www.eventbrite.com/e/greater-philadelphia-zoa-gala-tickets-35826890193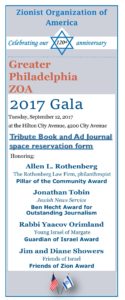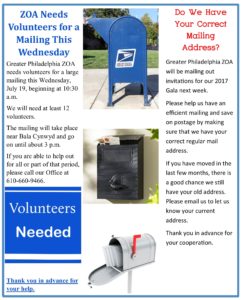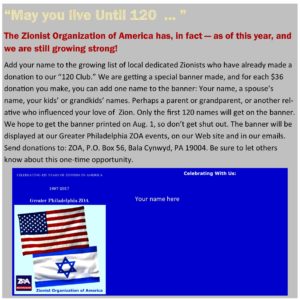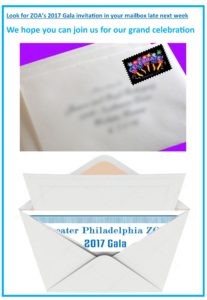 Support the Taylor Force Act!
HR 1164 in the House, and the corresponding S474 in the Senate, are both known as the Taylor Force Act, named in memory of an American who was murdered in Israel by a Palestinian-Arab. The Palestinian Authority pays terrorists a pension, or pays the pension to his or her family if they are eliminated. The bill calls for aid to be cut to the Palestinian Authority because it rewards terrorism and murderers.
Congressman Lloyd Smucker, who represents the Lancaster area, became one of the latest co-sponsors of the bill from our area. Please call him to thank him at:
202-225-2411.
There are other local lawmakers who have not yet become co-sponsors of the legislation.
They are:
U.S. Rep. Robert Brady: 202-225-4731
U.S. Rep. Dwight Evans: 202-225-4001
U.S. Rep. Patrick Meehan: 202-225-2011
U.S. Rep. Brendan Boyle: 202-225-6111
U.S. Rep. Charlie Dent: 202-225-6411
U.S. Rep. Donald Norcross: 202-225-6501
U.S. Rep. Frank LoBiondo: 202-225-6572
U.S. Rep. Tom MacArthur: 202-225-4765
U.S. Rep. Lisa Blunt Rochester: 202-225-4165
Sen. Bob Casey: 202-224-6324
Sen. Patrick Toomey: 202-224-4254
Sen. Cory Booker: 202-224-3224
Sen. Robert Menendez: 202-224-4744
Sen. Thomas Carper: 202-224-2441
Sen. Chris Coons: 202-224-5042
Please call their office and ask that they co-sponsor either HR 1164 or S474.
Thank you!
Get a Speaker From ZOA for Your Meeting, or Host a Parlor Meeting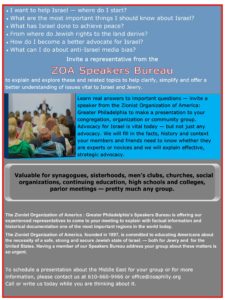 Greater Philadelphia ZOA maintains an active speakers bureau, suitable for both large events (such as congregations) or parlor meetings. Help ZOA educate others. For more information, see the link:
http://philly.zoa.org/about-zoa/host-a-zoa-speaker/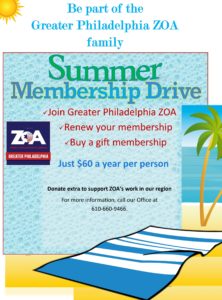 Click the donate/join link above
Did You Miss Our Meeting? See a Video of Our Guest Speakers
Video from last quarterly https://www.youtube.com/watch?v=soytnulEH98
Get Involved in ZOA!
Call our Office and ask for "Steve" to find out about becoming an officer, board member or committee chair with Greater Philadelphia ZOA. Our number is: 610-660-9466.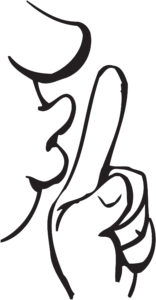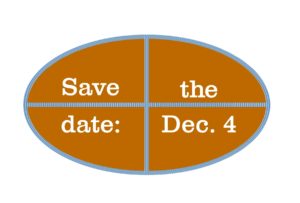 Greater Philadelphia ZOA will have another special event that evening, but you will have to wait for the details.
Don't Forget To Get Your Stamp!
Friends: Make sure you get your copy of the commemorative stamp the Israeli government has issued in honor of our 120th anniversary. In addition to the stamp, a first-day cover and souvenir leaf are available – all for a small donation. Click on the link for details.
http://philly.zoa.org/wp-content/uploads/sites/6/2017/06/zoa-stamp-promos-combined.pdf
Honor the memory of a loved one or celebrate an upcoming simcha with a classy, frameable custom-made certificate from Greater Philadelphia ZOA. For details and to see some examples, see the link:
http://philly.zoa.org/about-zoa/169-2/
Get your New ZOA T-Shirts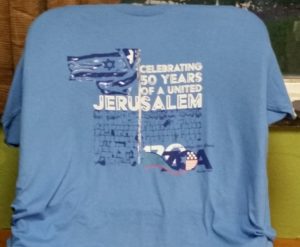 With the arrival of Summer and T-shirt weather, why not proudly show your
support for Israel and ZOA on the beach, at the pool or wherever you happen
to be. The new shirt commemorates 50 years of a reunified Jerusalem and
120 years since ZOA's founding. Each shirt is available for a minimum
donation of $20 and includes postage. Sizes range from small to 2XL.
Call our Office at 610-660-9466 to order yours!
Other Events of Interest: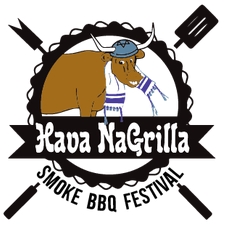 Hava NaGrilla Smoke BBQ Festival
The Men's Club of Temple Beth Hillel-Beth El will host the first annual Kosher BBQ Championship in the mid-Atlantic region, certified by the Kansas City Barbeque Society on Sunday, August 27 at the synagogue, 1001 Remington Rd. Wynnewood, PA 19096, beginning at 11:00 AM
There will be a pickle eating contest, face-painting for the kids, a wandering magician, craft artisans, mechanical bull riding, educational & interactive  booths (how to make the perfect matzah ball, how to clean a barbeque grill, how to make a grill into a smoker, have your swing analyzed by a PGA professional and more…). Come and visit the Greater Philadelphia ZOA table while you are there!
For all of the details, go to: https://phillykosherbbq.com/