EBulletin for May 5, 2017
Shalom ZOA Members, Friends and Supporters of Israel,
We want to thank those of you who have already registered to participate in ZOA's Pro-Israel Capitol Hill Mission.
There is still an opportunity for others to spend a day doing hands-on, pro-Israel advocacy with ZOA in Washington on June 6 – and save $50, but not for much longer.
Please consider participating in our Pro-Israel Capitol Hill Mission, and help us increase our numbers. The price of the Mission is $159 but it will increase to $209 on Wednesday. The cost for students is $75, but it will increase as well on Wednesday. Greater Philadelphia ZOA will pay the $55 bus fare for students.
Many of you have participated in our Washington Advocacy Mission in the past. You know not only how important a day it is, but you also know what a wonderful, meaningful and satisfying day it is to go to Washington, meet with our lawmakers, hear from other lawmakers from throughout our country and interact with Zionists from across America. For those of you who have not participated in this Mission previously, this is a rare opportunity to join with a small group of people for an intimate meeting with your lawmakers in their offices to discuss some of the most pivotal legislation and critical issues important to Israel and the U.S.-Israel relationship. The day includes a memorable luncheon where lawmakers from the House and Senate come to talk to us about the matters we care about and they pledge their support for Israel. Dietary laws observed. There is also a lobbying workshop/briefing, and a welcome from Mort Klein, our National President.
We will have bus pick-ups/drop-offs from Northeast Philadelphia, Center City and Lower Merion.
Please register for the Mission as soon as possible! To register or if you have any questions, please call us at 610-660-9466.
Click the graphic below to enlarge: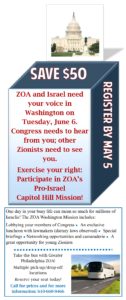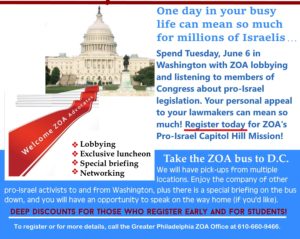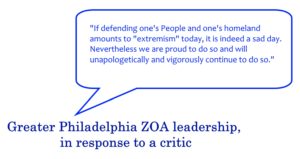 Click the graphic below to enlarge:
Last week, the Jewish Exponent newspaper published an op-ed written by our co-presidents, Lee Bender and Kevin Ross, and our executive director, Steve Feldman, that was sharply critical of the Foreign Policy Research Institute (FPRI) and its president for an event they had recently giving a platform to a PLO official. The PLO official, in his remarks, delivered a pack of lies and repeated his earlier calls for ethnic cleansing of Jews. You can read our op-ed for yourself at http://jewishexponent.com/2017/04/26/think-tanks-hosting-plo-rep-grave-assault-liberty/ .
We received an email about our op-ed from one of our members (also an FPRI member) attacking Greater Philadelphia ZOA for our op-ed. The member also sent his email to the Jewish Exponent, which opted to publish an abbreviated version of the email in its edition today. But the Exponent would not give us an opportunity to refute the scurrilous attacks against ZOA in the same edition. So for the sake of clarity, we want you – our members, supporters and friends – to see our reply to the accusations leveled against us. We have omitted the name of the person who sent us the email.
Here is our response:
Thank you for writing and for your membership in and support of ZOA. Thank you also for your annual trips to Israel to volunteer at IDF bases. Obviously, you have a deep love and concern for Israel and her people. This is all the more reason why your email was so troubling.
In a nutshell: FPRI gave a platform to Maen Rashid Areikat, a representative of the PLO (Palestine Liberation Organization), a group designated by the U.S. in 1987 as a terrorist organization. The PLO has been murdering Jews — mostly Israeli Jews – and Americans for more than 50 years. Their policies of demonization, incitement, violence and murder continue to this very day. They continue to glorify terrorists by naming schools, parks, and teams after terrorists who have murdered Jews. Those murderers who are jailed receive a "pension" from the PLO in a "pay to slay" policy. Further, the PLO deprives its own people of democracy and other basic freedoms that any civil society enjoys. And you feel we are in the wrong for criticizing the FPRI for hosting such a speaker?
Sadly, many do not see the enormous harm they are doing — whether wittingly or unwittingly– by enabling and legitimizing those who wish us dead and Israel destroyed.
To pro-actively give a public platform and all the legitimacy that goes with it to a representative of terrorists is in no way mitigated by relying on people's intellect or people's ability to interpret what he says. Would you have been content had FPRI invited David Duke or Louis Farrakhan to speak so that the public could better understand either of them?
Regarding your claim that we "offended" your "First Amendment rights": No one forbade FPRI nor the museum from hosting a representative of a terrorist group. No one from the ZOA interrupted the event or shouted down the speaker. "Congress shall make no law… abridging the freedom of speech," thus, this is not a First Amendment issue. We did ask the FPRI to disinvite the PLO's representative, or at the very least to have an Israeli official participate in the forum and be given equal time to debunk the absurdities and propaganda we knew Areikat would spew. Opposing Jew-haters and Israel-bashers is consistent with ZOA's mission to fight bigotry and anti-Semitism.
The audience in attendance — regardless of their religion — should have been duly insulted by the FPRI invitation of a PLO official. They should have been further insulted to be lied to for the better part of an hour. One of Areikat's claims: Hamas is not anti-Semitic. Its charter calls for the murder of all Jews! Another of his claims: Israel is the intransigent party. Israel has sacrificed and made offers that no other nation would make in the quest for peace.
These are just two of the outrageous lies offered up by FPRI's guest which went unchallenged by interviewer Alan Luxenberg. Areikat evaded nearly every question, blatantly lied in his responses and demanded that hundreds of thousands of Jews — Jews like yourself and Alan Luxenberg — be uprooted from their homes, and that all of us be forbidden from living in towns and communities that we have been associated with and lived in for millennia. Since when are there places that Jews are banned from living in, and since when is that acceptable discourse — let alone policy?
Were all of that not bad enough, he further said that Jews would be forbidden from visiting some of the most significant and holiest sites in Judaism: The Machpela, Rachel's Tomb. Joseph's Tomb, Shiloh, Gilgol and elsewhere — until the PLO would determine when in the future it would permit Jews to visit. Luxenberg should have challenged Areikat's blatant Jew-hatred, demand of ethnic cleansing and outright racism.
ZOA in no way sought to "make headlines." But we did want to alert the community to another low in the dangerous and growing trend of the mainstreaming of anti-Semitism and anti-Semites. There is no "intellectual" value to be gained in giving voice and respectability to a PLO official. Anyone who has for even a minimum amount of time been following the Arab and Muslim war against the Jewish People knows full well the PLO's goal of wiping out Jewry from Eretz Israel by any means necessary. After trying multiple times with violence to do so and failing, in recent decades they have cleverly made great strides to achieve their goal through "diplomacy" and by corrupting the UN and other forums.
It is FPRI that owes an apology: to the survivors of those murdered by the PLO these past decades, and to those who through the grace of G-d managed to survive terrorist attacks but endure great pain from PLO attacks.
Alan Luxenberg and the FPRI made a mistake by hosting such a nefarious speaker. Jew hatred is Jew hatred, and calling out bigotry and evil is neither partisan nor extremism. If defending one's People and one's homeland amounts to "extremism" today, it is indeed a sad day. Nevertheless we are proud to do so and will unapologetically and vigorously continue to do so.
Respectfully,
Steve Feldman – Executive Director
Lee Bender – Co-President
Kevin Ross – Co-President
Support Greater Philadelphia ZOA's work on behalf of Israel – right here in our region!
Click on the donate/join tab  above!
Join ZOA Today!
Greater Philadelphia ZOA has begun our spring membership drive. Please consider becoming a member of the Zionist Organization of America.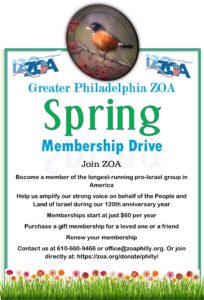 This is a special year for ZOA as we celebrate the organization's 120th anniversary. We are the lingest-running and most active organization whose primary mission is helping Israel. Through education, advocacy and outreach ZOA is supporting and defending Israel and also strengthening the mutually beneficial U.S.-Israel relationship and the American Jewish community. Join us and be a part of our family.
If you are already a member, please make sure your annual dues are up-to-date. If you are not sure, contact us and we will check and let you know. It may be time to renew your membership. Please resolve to become more active in Greater Philadelphia ZOA. This is your organization.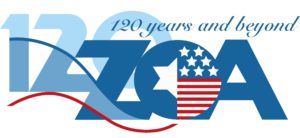 Please invite your friends or relatives to join Philadelphia ZOA, and additionally, you can purchase a gift membership for a loved one.
You can join or renew online by clicking the graphic below. Or you can call us at: 610-660-9466.
We value each and every member!
Click on the donate/join tab above.
Click the graphic below to enlarge: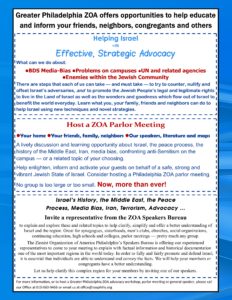 Would you like to help Greater Philadelphia ZOA have another successful Gala?
Please join our Gala Committee.
Call our Office at 610-660-9466.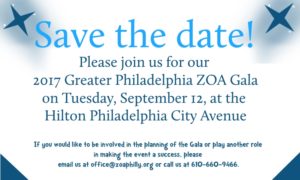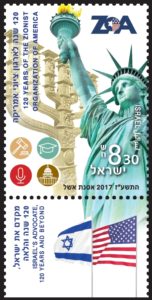 It's not every day that you get to own a piece of history connected to an organization that you admire and care about. But thanks to the government of Israel, you can help celebrate the Zionist Organization of America's milestone 120th anniversary with a First Day Cover and a Souvenir Leaf of a special commemorative postage stamp in honor of ZOA. The Israeli postal service issued the stamp earlier this year.
Greater Philadelphia ZOA has the First Day Cover and Souvenir Leaf available as a set along with a handsome embossed folder for a donation of $38.
The First Day Cover and the Souvenir Leaf are each available separately for a donation of $18 each. All include postage.
This is a great keepsake for yourself, and/or a wonderful collectable for the philatelist or those who collect Zionist memorabilia.
There is a limited number of these items, so get them while you can. Please see the flyers below for all of the details.
Click the graphics below to enlarge:
Get Involved in ZOA!
Click the graphic below to enlarge: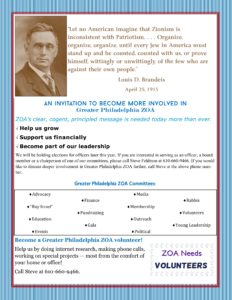 Observations on Speaking to Jewish Teens about Israel
By Lee Bender
I was recently invited to address classes at a Sunday Hebrew high school and a Jewish high school (many of whom have recently spent three months living and studying in Israel).  I am frequently requested to speak, be part of panel discussions, and be a radio guest in my capacity as co-president of Zionist Organization of America, Greater Philadelphia; the co-author of a book, Pressing Israel: Media Bias Exposed From A-Z and website, www.factsonisrael.com.  I was specifically asked to present the ZOA's perspectives and positions because the students during the course of the year have been hearing speakers from other Jewish organizations.  However, it was I who learned a lesson or two about what Jewish pupils are being taught and the consequences of miseducation: the onus is being placed on Israel, little recognition of any responsibility on the part of the Arabs to make peace.
First, I stated that ZOA was founded 120 years ago, making it the most veteran pro-Israel organization in the U.S., and that the State of Israel has commemorated the milestone with a special stamp, which I showed. I explained that ZOA is an advocacy organization that works to educate our political officials, the media, and students on the ongoing Arab/Islamist war on Israel—which is how we characterize "the conflict" – and strengthen the U.S-Israel alliance.   Then I stated ZOA's most basic positions: Jerusalem is the eternal, undivided capital of Israel and Jews have the historic right live in Judea and Samaria. I reiterated our mantra: Israel wants peace, but our rights and security first.
Read the rest of the article at: http://blogs.timesofisrael.com/observations-on-speaking-to-jewish-teens-about-israel/
Out & About
Co-President Lee Bender was a guest on "The Remnant Road" radio show on "Hebrew Nation" this week. You can hear a podcast of the broadcast at: http://hebrewnationonline.com/hebrew-nation-morning-show-the-remnant-road-5117/#comments Lee's segment begins at about 20 minutes in.