EBulletin for March 31, 2017
Shalom ZOA Members, Friends and Supporters of Israel,
Based on media reports, it appears that the "peace process" is starting up again. President Trump's special envoy, Jason Greenblatt, has been engaged in shuttle diplomacy, and the Arab League is reaffirming its support for Mahmoud Abbas. All of this means that the news media will ramp up its biased reporting against Israel, and Israel's enemies in academic, politics, punditry and elsewhere will spin the already-biased news to even further attempt to demonize, delegitimize and pressure Israel.
How do pro-Israel supporters compete with this multitude of deceit? How do we mitigate the damage and set the record straight?
Invite a Greater Philadelphia ZOA representative to speak to your congregation, organization, campus, school, social club — or even to your home to explain the true situation to your neighbors, friends and family.
It is urgent today to be as active as possible on behalf of a secure, strong and vibrant Jewish state of Israel, but the first step is to possess the knowledge about the history, international law and what is actually taking place on the ground. ZOA is a strong proponent of education. Let us offer the verifiable facts, historical documents and the true news to fellow congregants, group members and your neighbors. See the graphic below.
For more information and to book a speakers, call the Greater Philadelphia ZOA Office at 610-660-9466.
Now is the time!
Help Us Inform and Activate Your Congregation, Your Organization, Your Friends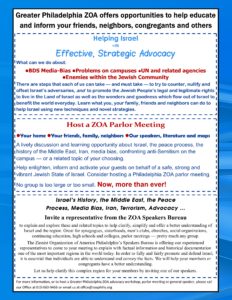 Or, for a more informal gathering: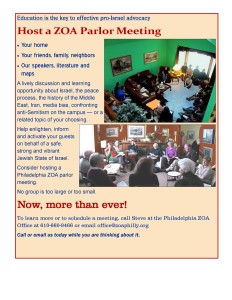 There's No Better Way to Defeat BDS!
When Passover-Shopping, Remember to:
Out & About
Greater Philadelphia ZOA Executive Director Steve Feldman will be speaking this Sunday to participants in RAJE: the Russian American Jewish Experience. RAJE Philly is an elite program, designed to inspire and imbue young professionals with a sense of Jewish Pride. Upon successful completion of the Leadership program, participants are eligible for a free group trip to Europe and Israel.
The talk will take place at 6 p.m. at Congregation Beth Solomon Community Center, 198 Tomlinson Rd, Philadelphia.
Join ZOA Today!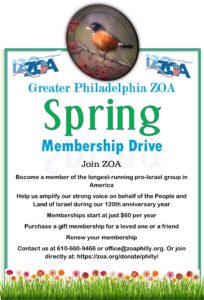 Greater Philadelphia ZOA has begun our spring membership drive. Please consider becoming a member of the Zionist Organization of America.
This is a special year for ZOA as we celebrate the organization's 120th anniversary. We are the lingest-running and most active organization whose primary mission is helping Israel. Through education, advocacy and outreach ZOA is supporting and defending Israel and also strengthening the mutually beneficial U.S.-Israel relationship and the American Jewish community. Join us and be a part of our family.
If you are already a member, please make sure your annual dues are up-to-date. If you are not sure, contact us and we will check and let you know. It may be time to renew your membership. Please resolve to become more active in Greater Philadelphia ZOA. This is your organization.
Please invite your friends or relatives to join Philadelphia ZOA, and additionally, you can purchase a gift membership for a loved one.
You can join or renew online by clicking the donate/join tab above. Or you can call us at: 610-660-9466.
We value each and every member!
It's Almost Time for ZOA's Washington Mission!
Take advantage of a generous early-registration discount and deep discount for students!
For all the details including fees, bus information and answers to any other questions, please call the Greater Philadelphia ZOA Office at 610-660-9466.
Please see the graphic below: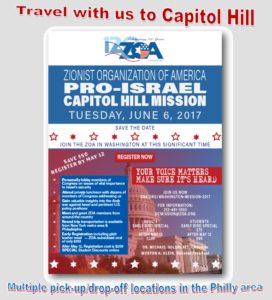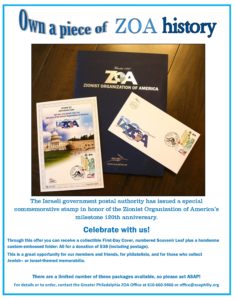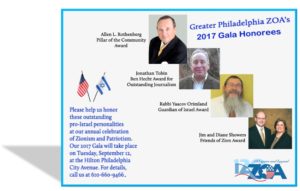 Get Involved in ZOA!